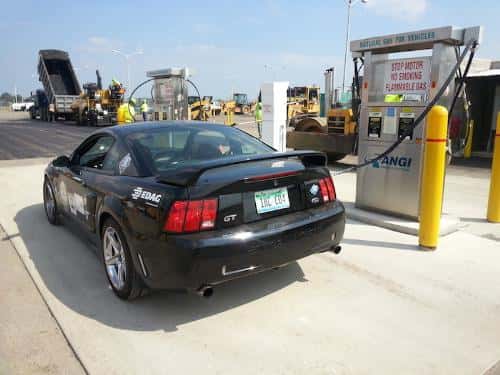 Performance CNG LLC, a Michigan-based company that designs and integrates bi-fuel compressed natural gas (CNG) systems, is using the Internet as a primary driver for funding part of its newest development effort.
The company's 2012 Ford Mustang GT was among the bi-fuel CNG passenger vehicles that were unveiled last year as a part of the Add Natural Gas (+NG) campaign: a joint initiative of American Gas Association and America's Natural Gas Alliance that put natural gas systems into everyday vehicles to showcase the potential for doing so at a mass scale.
'Having demonstrated that using CNG does not decrease horsepower from a gasoline baseline, the next step is to show it can increase horsepower,' Performance CNG says.
The company needs $55,000 in order to take that step – $15,000 for high-performance CNG components, $10,000 for engine calibration refinements on the dynamometer and $30,000 for EPA emissions testing.
To help attain that money, Performance CNG has initiated a crowd-funding campaign via Indiegogo. Backers can receive brochures, technical documentation and continued project progress updates, and the top donation level will also receive invitations to the grand unveiling event.
'We're shattering the various paradigms about the application of compressed natural gas used in real consumer vehicles,' says Performance CNG's Daryl Patrishkoff. 'This final stage of the project will prove the point that CNG is a high-performance fuel backed up with real engineering data that complies with global automotive standards.'
For more information, click here.