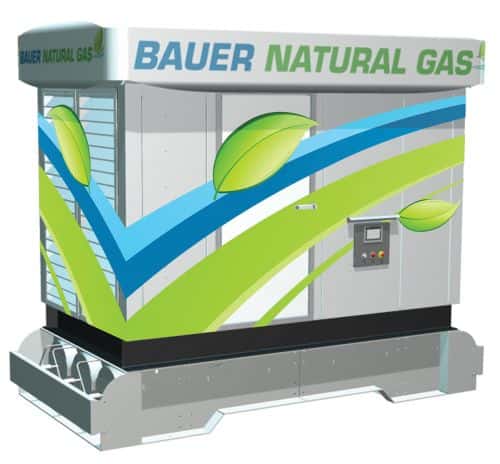 Bauer Compressors Inc. has redesigned and relaunched its C28.0 heavy-duty, self-contained compressed natural gas (CNG) platform as the new C28.0S offering. The 'S' refers to optional integrated storage capacity, which is tailored to the needs of retail refueling stations and convenience stores, as well as fleet operations.
The fast-fill C28.0S stores CNG in three ASME tanks housed in a subframe. Total storage capacity at 4,700 psig is 130 GGE. That equates to a sequential usable storage volume of 46 GGE, or roughly enough capacity to refuel a half dozen Honda Civic CNGs before the compressor needs to cycle.Â
A key advancement in the C28.0S is an optimized footprint – one that traditional retail fueling locations and c-stores can accommodate without using excessive space. The packaged unit (including the storage subframe) is less than 14 feet wide and 7 feet deep at the base. The C28.0S stands 12 feet tall.Â
Bauer Compressors notes that the C28.0S, which offers a daily capacity of 1,200 GGE over 16 compressor operating hours, is backed by a two-year warranty.
For more details, contact the company at SLS@bauercomp.com.