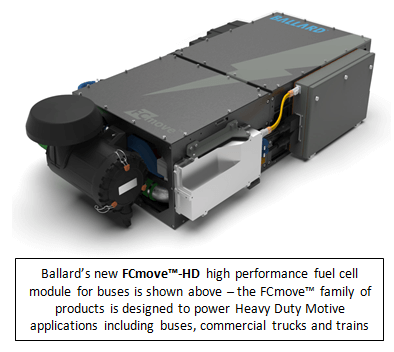 Ballard Power Systems has unveiled its eighth-generation fuel cell module, the FCmove-HD.
The culmination of product development and field experience based on almost 9 million miles of vehicle operation, Ballard's FCmove-HD fuel cell module is designed specifically for transit buses, the company says. The new product will first be used in 1,000 fuel cell electric buses to be deployed in Europe by the new H2Bus Consortium.
The module is the first in a family of FCmove products to be introduced by Ballard. Future FCmove products will offer various power outputs to suit a broad range of heavy-duty commercial vehicles, including trucks, coaches and trains.
"Today, we see growing global interest in the compelling value proposition uniquely offered by fuel cell electric vehicles in medium- and heavy-duty transportation applications," says Randy MacEwen, president and CEO of Ballard. "With a 35 percent reduction in lifecycle cost, the FCmove-HD module represents a major advancement in the cost-competitiveness of fuel cell solutions for this market."
Dr. Kevin Colbow, Ballard's chief technology officer, adds, "In designing FCmove products, Ballard is prioritizing a reduction in lifecycle cost while improving product performance. The FCmove fuel cell module offers attractive customer value based on high reliability, simplified system integration and optimized operating parameters."