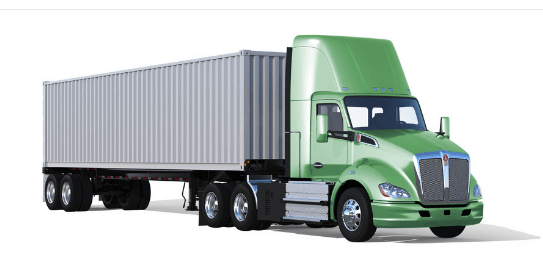 Ballard Power Systems has announced that the company's FCveloCity-HD 85 kW fuel cell engine will power a hybrid Class 8 drayage truck built by Kenworth Truck Co.
As reported, the drayage truck is planned to haul shipping containers from the ports of Los Angeles and Long Beach to area warehouses and intermodal facilities during a two-year demonstration program.
"The electrification of propulsion systems is being adopted globally," says Rob Campbell, Ballard's chief commercial officer. "We see significant market interest in the complementary addition of fuel cell systems to address the range limitations of stand-alone battery solutions in certain use cases.
"We are excited to be working with Kenworth, which has a strong brand in the commercial trucking market, and BAE Systems, a Ballard systems integrator partner, to help create an advanced power solution for this heavy-duty motive requirement," he says. "We are now seeing growing demand in key global trucking markets for zero-emission and efficient propulsions systems that provide the trucking industry with the traditional range and refueling times provided by legacy diesel solutions."
Patrick Dean, Kenworth chief engineer, says, "Within the next decade, hybrid-electric powertrains are expected to be required to satisfy emissions regulations in several major U.S. metropolitan areas. For example, California is considering regulations that will require zero-emission levels for port drayage trucks operating in specifically designated areas."
Jason Hanlin, director of technology development at the Center for Transportation and the Environment (CTE), notes, "The strength of this project comes from a team that is comprised of leaders in their respective fields – Kenworth for their heavy-duty truck design and manufacturing experience, BAE Systems for their powertrain integration and component supply experience, and Ballard for their extensive fuel cell supply experience. Working with this team on the technical development of a fuel cell drayage truck has been nothing short of impressive and inspiring."
The fuel cell engine in the Kenworth truck will be used to recharge onboard lithium-ion batteries, which power a dual-rotor electric motor to drive the rear tandem axle through a four-speed automated transmission. The truck will have an electric-only range of approximately 30 miles, and onboard hydrogen fuel will provide sufficient range for a full day in regional haul applications.
The development and demonstration project is the San Pedro Ports Fuel Cell and Hybrid Electric Vehicle Demonstration Project funded by the U.S. Department of Energy, the California Energy Commission, the ports of Los Angeles and Long Beach, and the South Coast Air Quality Management District.
The CTE, a nonprofit organization that develops technologies and implements solutions to achieve energy and environmental sustainability, lead the proposal development effort and is acting as project coordinator.