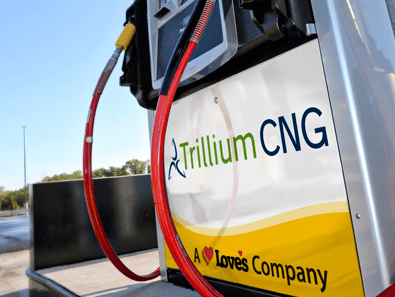 Athens Services, a waste-collection and recycling company based in Los Angeles County, has selected Love's Trillium CNG, part of the Love's Family of Companies, to design, build and maintain a compressed natural gas station for its fleet of refuse haulers.
According to Athens Services, it is committed to converting more of its fleet to alternative fuel vehicles and intends to use this partnership with Trillium CNG to provide more service to Los Angeles residents. The company already operates 229 CNG vehicles in various cities.
"Partnering with Trillium to build a new CNG station was needed for Athens to provide the best service to certain zones in the city of Los Angeles," says Marty Mitchell, director of maintenance for Athens Services. "The new station will allow our drivers to fuel in the most efficient way and avoid taking vehicles miles away to another fueling facility. We've worked with Trillium on other projects, and we know they provide a quality product."
The private station at 12355 Montague St. in Pacoima will provide CNG fuel to approximately 110 Athens Services refuse trucks. Construction is underway, and the station is scheduled to be complete this fall.
According to the Alternative Fuels Data Center, California has more than 320 public and private CNG stations, more than any other state.
"We understand companies in California emphasize alternative fueling solutions to meet state mandates of reducing greenhouse-gas emissions by 2020," says Bill Cashmareck, managing director of Trillium CNG. "We are honored to help Athens Services with its goal of converting more vehicles to CNG."
Notably, Trillium will procure renewable natural gas (RNG) for use with the station, which is derived from renewable sources. When combined with Cummins near-zero emissions CNG engines, the use of RNG significantly reduces greenhouse-gas emissions.
Trillium says it partnered with Athens Services on two other CNG stations in Irwindale and La Puente. Trillium owns 10 CNG stations in California and operates an additional 31 stations.