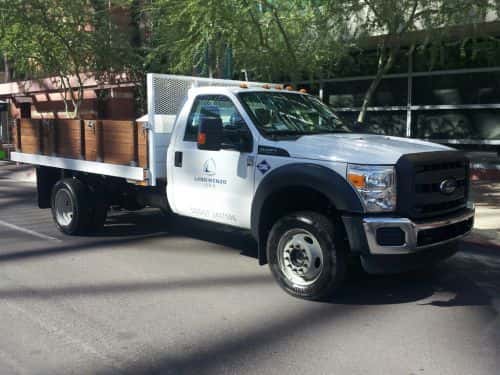 The medium-duty market may be ripe for the picking for compressed natural gas (CNG) conversions, but defining the segment and potential customers among the estimated 8 million such vehicles on the road is an important challenge.
'It's the work truck market, with medium-duty being a sub-set that stops between the 22,000- to 24,000-pound ranges,' says Stephe Yborra, director of market development for NGVAmerica and the Clean Vehicle Education Foundation. 'How we define 'work truck' versus 'medium duty' is different because we can have light-duty work trucks, but when we say medium-duty, we are really talking classes four through seven.'
The owners and operators of these medium-duty trucks are common on city streets.
'Many are businesses providing consumable goods and services, or commercial services,' Yborra says. 'It could be the local pest control or plumbing and heating [company], or the guy delivering fresh fruit, restaurant supplies and food.'
This is where the medium-duty market begins to open up, according to Yborra.
'We have a lot of possibility with delivery vehicles because even though they are sticking to a specific area, there is significant fuel use,' he says. 'They are usually trucks that leave in the morning and then come back at night.'
A home base of operations and daily routes are both qualifiers when determining which medium-duty fleets are potential customers for CNG conversion. When running shorter routes, a fleet will not have to rely on CNG refueling infrastructure outside its central location. However, having available infrastructure remains vital for getting most fleets on board, especially if they are looking at expanding.
Doyle Sumrall, managing director of NTEA, uses Columbus, Ohio, as an example. The city currently has two public-access fast-fill CNG stations that serve a variety of vehicles in the Columbus area, from bus and transit vehicles to short-haul, tractor-trailer rigs. Some vehicles utilizing the station come from farther away, knowing the option to fill up in Columbus exists.
'Fleet managers look at that with a high degree of confidence and see they will have fuel long-term and at a favorable price,' Sumrall says. 'This spider web and networking of natural gas makes it easier for fleets between five and 15 trucks to make the decision to go to natural gas.'
Sumrall often talks with fleets that want to switch to CNG, and the bottom line is always an essential consideration.
'They all have an equally strong interest in saying they are doing the right thing for the environment and the community, but they cannot do it at the expense of their operation,' he says.
The good news is that most medium-duty owners can generally see a payback relatively quickly.
'The repetitive routes create a reasonably good payback in two or three years,' Yborra says. 'In the case of a step van, they might pay themselves back in two years and keep it for 10 or 11.'
Sumrall shares a similar view.
'Most fleets would like to see a payback in three years, and if the miles they drive annually will generate that payoff, they see it as a good economic investment and something to build on long-term,' he says.
The overall cost of fuel also remains a factor for medium-duty fleets.
'A key driver is always gasoline pricing. And as those prices keep dropping today, that is a decelerator when it comes to folks making a move to anything else,' Sumrall says.
Although natural gas is still significantly cheaper than gasoline, fleets operating trucks on the higher end of the medium-duty spectrum rely on diesel.
'Some of the heavier medium-duty fleets that have gone over to a dedicated CNG engine haven't necessarily been happy with the performance,' says Ryan Waltz, national sales manager for Landi Renzo USA. 'The person that has a 26,000 GVWR might be accustomed to diesel, and to go to natural gas, they have to go to a gasoline engine – and that can pose some issues for them, based on their using cycle.'
Dual-fuel solutions may be the best approach for operators on the heavier side of the medium-duty spectrum. The technology gives trucks the ability to run on CNG without compromising the torque and power associated with diesel engines.
'That is why I am a fan of dual fuel – not every company can drive an F-550 or F-650 on gasoline, especially in the hills of San Francisco,' Waltz says. 'That is where a dual-fuel product will allow them to retain that diesel engine and not sacrifice the torque.'
General Motors, Isuzu, Kenworth and Freightliner all have offerings in the medium-duty sector, but Ford seems to be gaining the most traction.
'They are the most aggressive in making CNG compatible to the industry, especially in medium-duty applications,' Sumrall says.
For 2015, Ford will offer the 6.8-liter Triton V10 engine with a CNG/propane gaseous-prep package for the F-350 through F-750 Super Duty vehicles. The 6.2-liter, two-valve V8 will have a CNG option as well, for the F-250 through F-550. CNG upfits are performed through the Ford Qualified Vehicle Modifier program.
'We have some beer and wine distributors on the East Coast that utilize our products in the F-450 and F-550 platform, and we can really make a good case for them,' Waltz says. 'There are airport shuttles using the E-450 platform, and we are seeing growth there, as well.'
Despite multiple engine offerings, advances in refueling infrastructure and a large potential customer base, the medium-duty CNG market remains largely untapped.
'Every city has a restaurant where somebody shows up to deliver soda and food, or a hotel where somebody shows up for the laundry to be shipped out,' Yborra says. 'These trucks show up all day regardless, and I don't know why more people aren't calling these guys.'
Larger fleets still get most of the consideration.
'In my opinion, there has not been a focused effort, as the major infrastructure and vehicle providers have initially gone after markets that use more fuel, such as refuse and transit,' Waltz says.
Yborra agrees: 'That is why the little guy, with 15 box trucks, gets ignored – but they are still making daily routes and using fuel,' he says.
An NTEA study released in December 2013 confirms that the medium-duty segment is strongly represented in the work truck sector, giving a boost in confidence to those looking to capitalize on a relatively untouched medium-duty market.
'Over 60 percent of the fleets responding to that study had trucks in classes four through six,' Sumrall says, noting that 21% of all the fleets that were surveyed were planning to purchase natural gas trucks in 2014.
'This shows natural gas migration is alive and well.'
Carl Anthony is a freelancer writer based in Detroit. He can be reached at carlanthony2@gmail.com or (712) 310-6181.
Photo: Courtesy of Landi Renzo