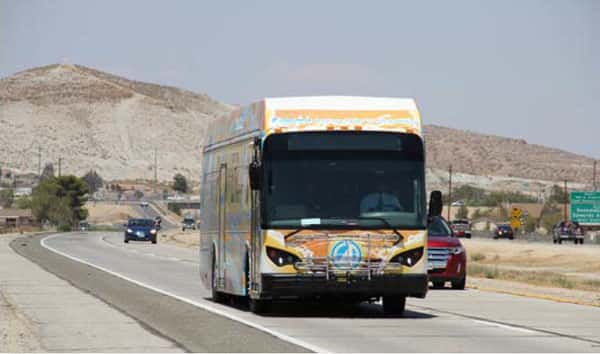 During a special meeting, the Antelope Valley Transit Authority (AVTA) board of directors voted to award electric vehicle maker BYD a contract to manufacture up to 85 electric buses over a five-year period. Los Angeles-based BYD Motors will build the 85 buses for AVTA at its manufacturing facility in Lancaster, Calif.
"There are multiple benefits to electrifying our bus fleet, from creating jobs and eliminating harmful air pollutants, to reducing dependence on foreign oil," says Marvin Christ, chairman of the AVTA board of directors. "These benefits will be seen at the local, regional, state,and national levels. It's really a win-win."
Under the order from AVTA, BYD Motors will build and deliver a variety of all-electric bus models, including a 40-foot low-floor transit bus, a 60-foot low-floor articulated bus and a 45-foot commuter coach. All 85 buses will have a range of more than 160 miles on a single battery charge. AVTA is also installing a wireless charging system to extend the fleet's range to ensure the electric buses will be able to serve the agency's longest rural routes.
AVTA says it is anticipating a cost savings as a result of electrifying its fleet. Over the lifetime of the new electric bus fleet, the transit agency forecasts it could save more than $46 million compared with an all-diesel bus fleet – equivalent to $46,000 per bus per year in savings.
The agency expects to take delivery of 29 electric buses within the next 12 month, and is working to secure additional grant funding from the California Air Resources Board to purchase another 17 buses.
"This is a historic day for AVTA, which has been working diligently to secure grant funding to purchase these state-of-the-art, zero-emission vehicles," says Len Engel, executive director of AVTA. "We are proud to be the first transit system to adopt a goal of '100 percent Green in 2018,' and we look forward to leading the nation toward a new alternative in public transportation."