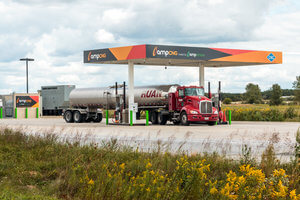 AMP Americas, a renewable natural gas (RNG) producer and marketer and compressed natural gas (CNG) fuel provider for the heavy-duty trucking industry, says its RNG operation at Fair Oaks Farms in Indiana has received the first dairy waste-to-vehicle fuel pathway certified by the California Air Resources Board (CARB).
CARB awarded the company a carbon intensity (CI) score of -254.94 gCO2e/MJ, which is the lowest ever issued by CARB, the company says.
AMP Americas' project at Fair Oaks Farms has been in operation since 2011 and produces over 1.5 million gallons of 100% renewable fuel from dairy waste every year. The project was the first U.S. EPA Renewable Fuel Standard-certified dairy waste-to-vehicle fuel project in the U.S.
"There are very few credible providers in the dairy RNG space – no one with the level of experience we have operating dairy RNG, and no one with the CNG station network integrated with RNG production assets and marketing capabilities," says Martin Gilkes, chief operating officer at AMP Americas.
Construction is currently underway for the company's second RNG project using dairy digester gas. AMP Americas' Renewable Dairy Fuels unit plans to more than double its dairy gas output by early 2018 and aims to deliver 100% RNG to all 20 of its fueling stations as it brings on future projects.