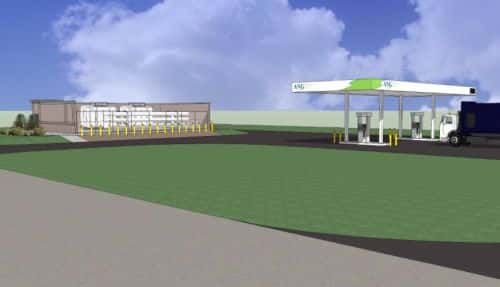 American Natural Gas LLC (ANG), a New York-based company that focuses on providing natural gas refueling solutions, is working with Casella Waste Systems Inc. to establish a public-access compressed natural gas (CNG) station in Westbrook, Maine – one of the first such facilities in the state.
ANG founder and CEO Drew West tells NGT News that Casella is the anchor fleet of the new facility – and owner of the property on which the station will be constructed – but a potentially 'big build-up of users' in the area is contemplating the adoption of natural gas vehicles (NGVs) now that plans are in motion to develop refueling capacity.
The City of Westbrook is looking at the potential for NGVs, and nearby commercial entities – such as clean transportation leader FedEx – could also become station customers. These and other fleets represent 'natural fits for the facility over time,' West says.
Also, the station is located in Maine's largest metro, Portland, and is less than a mile from heavily traveled Interstate 95, he notes. Casella alone has about 50 heavy-duty refuse vehicles in its local fleet that are targets for natural gas conversions (and will refuel in Westbrook), but the facility's strategic location makes it an ideal spot to accommodate regional-haul trucks, transit buses and other NGVs.
The Westbrook station has been in the works for more than six months, and ANG has drawn from the expertise of Maine Clean Communities and Casella itself – for whom ANG already operates three other CNG stations in New York. ANG has also been working closely with the city's zoning and fire officials to secure the necessary permits, as well as with natural gas utility Unitil Corp. to confirm that the on-site resource offers sufficient inlet pressure and volume.
The station, which ANG will own and operate, will feature two high-horsepower compressor units to ensure redundancy and up to 120,000 cubic feet of CNG storage. Two dual-hose dispensers that deliver high- and low-flow fueling will be paired with fully enabled point-of-sale systems, West explains. The facility will be open 24/7.
Photo: A rendering of the ANG CNG facility planned for Westbrook, Maine.