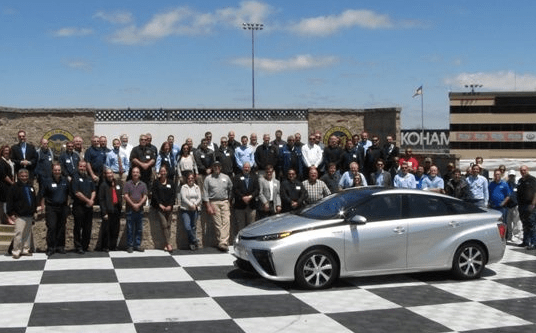 The East Bay Clean Cities Coalition, the Sacramento Clean Cities Coalition and the Northern California Chapter of the Municipal Equipment Maintenance Association (MEMA) are partnering together to hold the second annual MEMA NorCal event at Sonoma Raceway on Tuesday, July 12.
The fleet event, which will be held from 9 a.m. to 3 p.m., will include educational presentations and networking opportunities for fleet professionals and industry representatives – and, further, will offer a ride-and-drive event featuring alternative fuel vehicles.
The event is free for MEMA members and costs $30 for non-members.
According to MEMA, the expanded schedule will incorporate the following presentations:
Alternative fuel technologies;
Grant funding opportunities;
Automated car sharing technologies for fleet applications;
Automated fuel management;
California Department of General Services alternative fuel vehicles purchasing contract opportunities;
Department of Energy Clean Cities program resources that are available for fleets;
Electric vehicles and charging station infrastructure government fleet experience;
Fleet information management software;
New car safety technology presentation by Toyota;
Online auction services;
NTEA technical resources available to fleets;
Renewable diesel; and
Telematics (GPS).
MEMA states that there will also be a catered lunch and vendor displays. What's more, during the lunch-hour break, professional race car drivers will take attendees around the famous Sonoma Raceway Road Course in stock Toyota Camry vehicles to experience the twists and elevation changes that make this race track a true "driver's" course and one of the most challenging in North America.
Acting as the event organizer, MEMA NorCal serves a region that is modeled to mirror the area covered by the five Clean Cities Coalitions in northern California: San Francisco, East Bay, Sacramento, Silicon Valley and San Joaquin.
Established in 1952, the association currently has over 600 members nationwide. MEMA states that it sponsors and endorses technical training for various types of municipal fleet equipment, including light- and heavy-duty emergency vehicles, refuse, transit, as well as technical training for the use of alternative fuels.
The first NorCal event took place on May 19, 2015, and was also held at Sonoma Raceway. Sold out for almost a month in advance, more than 120 fleet professionals and industry vendor partners were in attendance. As reported, Toyota's Bruce Derby and Paul Jontig made a presentation on the soon-to-be-released hydrogen fuel cell vehicle, the Toyota Mirai, which was later available for attendees to test-drive.
Thanks to the partners, sponsors and Sonoma Raceway, MEMA says it was able to double the meeting room capacity to 200 attendees this year.
The following industry vendors are sponsoring the upcoming event: Fuel Master, GPS Insight, NEXGEN FUELS and Toyota USA are platinum sponsors; AssetWorks and GovDeals.com are gold sponsors; and Invers, Landirenzo USA/BayTech Corp., and Local Motion by ZipCar are silver sponsors.