Allison Transmission used the ACT Expo as an apt occasion for making a number of announcements that signal its heavier presence in electric mobility, including a pair of acquisitions and new technology offerings.
The company, which specializes in medium- and heavy-duty fully automatic transmissions, has purchased Vantage Power, as well as the electric vehicle systems division of AxleTech. London-based Vantage Power develops electrified propulsion and connected vehicle technologies for medium- and heavy-duty vehicle manufacturers and their suppliers. With particular focus on battery technology development, vehicle integration and control systems, as well as vehicle connectivity and telemetry, Vantage Power has deployed technologies in applications ranging from complete electric hybrid repower systems for buses to grid energy storage.
AxleTech's EV systems division, based in Troy, Mich., designs, engineers, manufactures, sells and services axles and integrated electrified axle solutions for on- and off-highway heavy-duty commercial vehicles.
In that vein, Allison Transmission has introduced the new ABE Series of e-axles: an ultra-low floor electric bus powertrain system. The ABE Series integrates dual electric motors, a single- or multi-speed gearbox (depending on e-axle model), oil coolers, pumps and power electronics into a bolt-in system that replaces the entire traditional powertrain within the existing frame. It meets the power and space demands of the transit bus industry, including heavy double-decker, articulated and three-door buses.
The company notes that the ABE Series can operate without restrictions at regular highway speeds, and on all allowable grades. The system can handle 100% torque in regenerative braking, and with an axle rating up to 28,660 pounds (13 tons), the system provides more power and torque than any other e-powertrain system in its class on the market, according to Allison. With a dual motor, it has continuous axle output power of 536 horsepower (400 kilowatts) and peak output power of 738 horsepower (550 kilowatts). A single speed e-axle option also is available.
Allison Transmission says it is now working with Alexander Dennis Inc., one of the world's leading bus and coach builders, to develop electric buses based on the ABE Series. Foothill Transit, which provides bus service throughout Southern California's San Gabriel and Pomona Valleys, has executed an order for Alexander Dennis' interurban and commuter Enviro500 three-axle double-decker buses. These units will feature technology borne of the Allison Transmission/Alexander Dennis partnership.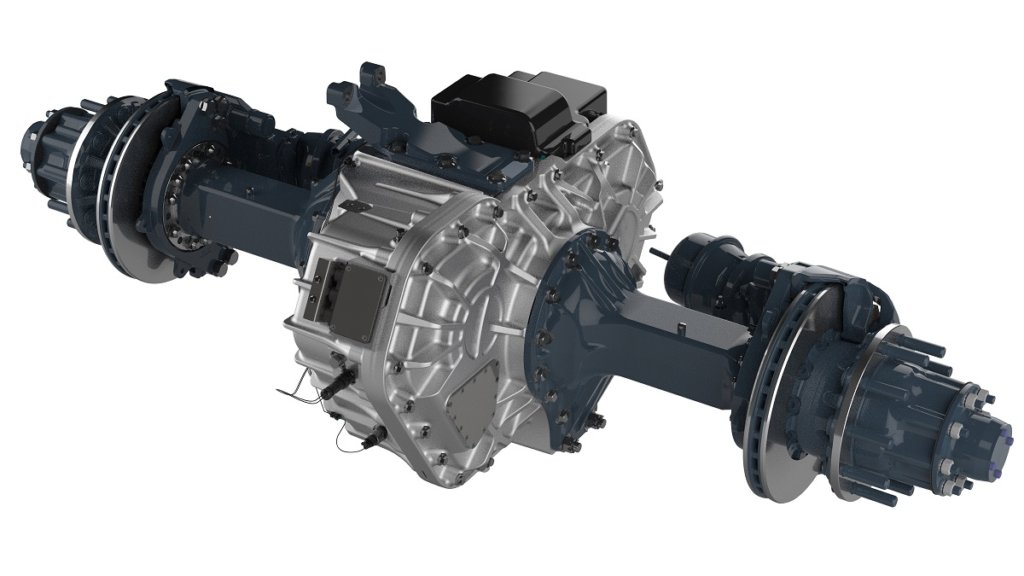 The company has also debuted the new AXE Series, developed for medium- and heavy-duty trucks. A fully integrated electric powertrain system designed to fit inside a standard frame along the axles of commercial trucks, the AXE Series features electric motors, a two-speed gearbox, oil coolers and pumps. The offering also includes power electronics for a complete powertrain solution.
The platform has a 1-million-mile design life for medium- and heavy-duty trucks, the company says. The system integrates one or two high-speed electric motors and a multi-speed transmission, eliminating the need for additional driveshafts and support structures. Like the ABE Series, the AXE has a continuous power of 536 horsepower (400 kilowatts) and peak output power of 738 horsepower (550 kilowatts) in a dual-motor configuration. A tandem axle configuration is also available for these vehicles.
Allison notes that the AXE Series is a bolt-in solution, ensuring efficiency in the installation process. It can be applied to refuse trucks, school buses, and drayage and delivery trucks, and similar vehicles. During the ACT Expo, the company announced that the AXE Series will be integrated in Peterbilt's Model 579EV electric Class 8 truck, for evaluation and testing.