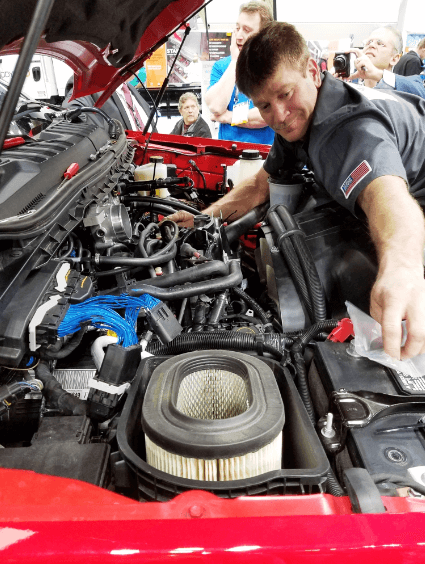 Conversion specialists from Alliance AutoGas upfitted a 2017 F-250 to run on propane autogas live in record-setting time at the recent Work Truck Show in Indianapolis.
According to the company, its specialists completed the conversion in 1:21:00, which beats last year's F-150 conversion record of 1:32:25.
"The live conversion was not being done this year for speed or to break any records – only to show consistency and ease of install on any vehicle," says Ed Hoffman, president of Blossman Services Inc.
Stacey Snyder, conversion specialist from Alliance AutoGas, assisted Kevin Oglesby, conversion specialist from Alliance member Southern Alternatives LLC in Athens, Ga., in the installation of the Alliance AutoGas engineered conversion system.
"We worked methodically and not particularly fast. Show attendees were encouraged to come up and watch the installation closely and ask us questions," says Snyder. "It is a testament to how far we have come with the Alliance conversion kits. Any conversion specialist can do it in the same time Kevin and I did."
According to Alliance AutoGas, its "plug and play" autogas conversion system is compliant with the U.S. Environmental Protection Agency and National Fire Protection Association 58 standards. Designed to require no fabrication, the system can be installed on new or in-service vehicles in half the time of other solutions. The company asserts that, ultimately, fleets reduce labor times and conversion costs with more consistent installations.
Founded in 2009 and based in Asheville, N.C., Alliance AutoGas is an international network providing a comprehensive propane autogas solution to medium- and heavy-duty fleets, as well as small engine products.