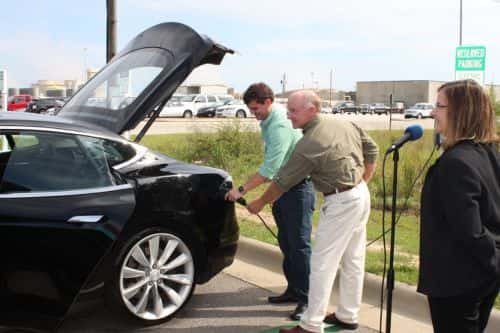 Southern Nuclear, a subsidiary of Southern Co., has unveiled dual electric vehicle charging stations at the Joseph M. Farley Nuclear Plant near Dothan, Ala. The company says the stations will charge 10 electric and/or plug-in hybrid vehicles for employees while they work.
'Charging an electric vehicle at home currently costs about $1 for 35 miles of energy,' says Site Design Engineer Matthew Budraitis. 'Workplace charging makes driving electric convenient and more financially attractive. It also helps vehicles with smaller battery packs travel more miles in a day.'
Plant Farley leadership made the decision to install the charging stations based on requests from employees. The stations are the first to be installed at the company's three nuclear sites.
'We're glad to make this investment and provide cost-saving and environmental benefits for our workers and the community," says Site Vice President Cheryl Gayheart. "I am hopeful more workers will take advantage of our company's incentives for electric vehicles, as well as other incentives at the state and federal levels.'
Southern Co. says it has been committed to the research, development and marketing of electric transportation since the early 1990s.