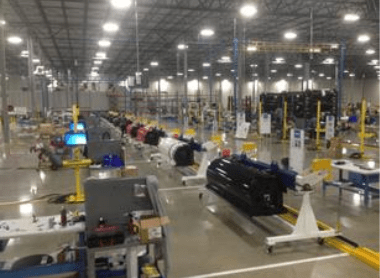 Agility Fuel Solutions, an international developer and manufacturer of all-composite cylinders and natural gas fuel systems for heavy-duty vehicles, is celebrating one year of production at its $20 million flagship plant, located in Salisbury, N.C.
Opened in October 2015, this plant is the only vertically integrated facility of its kind in North America and has revolutionized how natural gas fuel systems are manufactured and assembled.
Occupying over 200,000 square feet, it features computer numerically controlled laser and metals fabrications technology to maximize quality and an automated paint shop with both powder and wet-coat capabilities to produce a superior finish consistent with truck and bus OEM requirements. Agility says this facility also features multiple flow-through bays to maximize installation efficiency for a variety of vehicles and system configurations.
According to the company, over 125 new fuel system assemblies across the refuse, bus and truck segments have been launched since its opening. Many of these were the largest-capacity fuel systems (175 DGEs) in the company's history, utilizing proprietary 27-inch diameter, all-composite cylinders in its assembly. Agility notes other company achievements, including reaching profitability within four months and an ISO 9001-2015 certification within nine months.
"We are very proud of what we have been able to achieve in such a short amount of time, which is a testament to the skill and dedication of our team and our partners to make this world-class facility become a reality. This facility offers customers the best quality, cost and technology, and we believe that the North Carolina facility will be instrumental in driving adoption of natural gas in the North American market," says Kathleen Ligocki, CEO of Agility Fuel Solutions.
Agility Fuel Solutions, headquartered in Santa Ana, Calif., is a provider of highly engineered and cost-effective natural gas fuel systems and Type 4 cylinders for medium- and heavy-duty commercial vehicles. Agility's proprietary natural gas fuel solutions enable the safe and effective use of natural gas as a vehicle fuel for local, regional and long-haul applications.