Among the many alternative fuel vehicle (AFV) fleets touted at this year's Advanced Clean Transportation (ACT) Expo, held in Long Beach, Calif., there was one company that stood out for the success of its massive AFV and advanced vehicle technology fleet.
UPS, the delivery company with a strong sustainability corporate policy, has been making strides in the AFV market for years, having deployed more than 8,300 AFVs across the globe – and it looks like it's far from finished.
On Tuesday, May 2, UPS announced the addition of its first fuel cell electric vehicle (FCEV) to its "Rolling Laboratory" fleet and displayed its chassis and powertrain for attendees at the ACT Expo.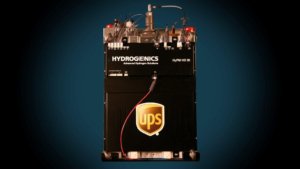 The extended-range Class 6 delivery truck, featuring a 32 kW onboard fuel cell from Hydrogenics with 45 kWh of battery storage and 10 kg of hydrogen, was developed as part of a U.S. Department of Energy fuel cell project grant aimed to verify the proof of concept in commercial delivery vehicles.
As would follow, the company intended to use this project as a demonstration of the viability of zero-emission trucks for fleet operators, meeting the same range and route requirements as the other fleet vehicles, and the developing FCEV supply chain.
While talking to NGT News at the ACT Expo, UPS Director of Maintenance and Engineering Mike Britt said that once the prototype is tested and approved, the company has plans to roll out and validate another 16 FCEVs.
Touting the vehicle's design, Britt deemed it the best chassis in the U.S. – second only to the Mercedes-Benz globally.
"We're optimistic once we get it scalable and competitive with diesel, everyone will buy it. We think we built the right mousetrap," Britt grinned.
To start, the new FCEVs will only be deployed in California, given the state's commitment to clean transportation and investment in hydrogen refueling stations. As the hydrogen fueling infrastructure expands, increasing access across major transportation areas, UPS expressed interest in going even bigger by developing and deploying Class 8 fuel cell trucks.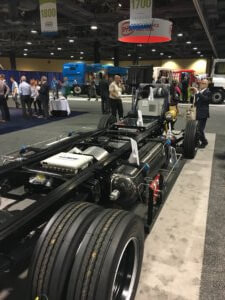 According to Scott Phillipi, automotive maintenance and engineering manager at UPS, the company's experience with various types of alternative fuels and advanced vehicle equipment, including an impressive collection of electric, hybrid electric, natural gas, renewable natural gas, propane and renewable diesel vehicles, was helpful as it planned the new vehicle's design.
"We have bits and pieces of information from all our diverse alt-fuel vehicles, so we really have an advantage there," he remarked.
According to Britt, hydrogen is a viable transportation fuel option, but the key to wider adoption is developing a renewable hydrogen fuel. To push that effort forward, UPS continues to encourage the state of California to invest in digesters.
"I think hydrogen is a great product – but, renewable hydrogen? That's a game-changer," he asserted.
At the expo event, the company was featured in an ACT Talk One-on-One session, with Mike Casteel, UPS' director of fleet procurement, highlighting the company's recent achievement in reaching 1 billion miles more than one year earlier than expected.
In 2012, UPS set its goal of reaching 1 billion miles driven with alternative fuels by the end of 2017. The company surpassed that goal by August 2016.
As of that announcement, approximately 12% of the conventional diesel and gasoline fuel previously used by UPS' ground fleet has been replaced by alternative fuels, including renewable natural gas and renewable diesel.
Calling it a "Class 8 CNG success story," Casteel explained that despite any incentives, its AFV rollout was still a major financial investment and demonstrates the company's steadfast commitment to sustainability.
"Incentives enable bigger projects and push projects that wouldn't have gone forward. They can be an integral part of a singular project but accounts for only one in 10 of what we spend overall for AFVs."
With more than $750 million invested in alternative fuel and advanced technology vehicles and fueling stations globally since 2009, and more planned for the future, UPS shows no signs of slowing down.