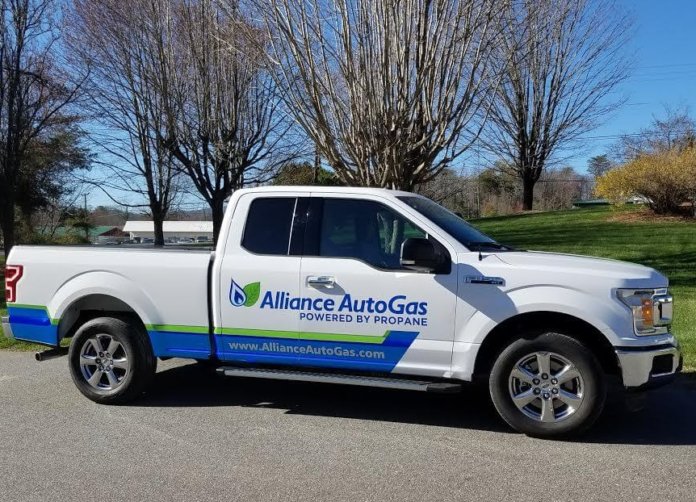 Alliance AutoGas (AAG) has successfully engineered propane port fuel direct injection (P-PFDI) conversion systems for the 2018 Ford F-150 in two engine choices, the 3.3-liter V6 and 5.0-liter V8.
The new technology features propane autogas as the primary fuel but strategically uses gasoline as a combustion lubricant.
AAG says its platform-specific P-PFDI conversion system offers the following benefits:
Reliability: Fleets can depend on the system in extreme weather conditions.
Emissions Reduction: Autogas PFDI technology dramatically reduces tailpipe emissions – e.g., CO2, CO and NOx.
Range: It offers the same range as that of a gasoline vehicle.
Proven hardware: The P-PFDI conversion system is an adaptation of AAG's technology that is currently used on over 100,000 vehicles globally.
Support: AAG provides a five-year, 100,000-mile warranty supported by a nationwide service network.
The 2018 F-150 is only the beginning of P-PFDI technology for AAG, the company says. AAG engineers expect the P-PFDI engine to continue growth within the larger vehicle markets.
"We plan to be prepared for the advancement in OEM technology with the complementary propane autogas conversion technology," says Ed Hoffman, president of Blossman Services Inc., AAG's founding partner. "Propane autogas is the most popular alternative fuel worldwide, proven in more than 28 million vehicles, and we must always be prepared to meet the demand of fleets throughout the country."
The P-PFDI technology will be unveiled at the 2018 Work Truck Show in Indianapolis. AAG will display two vehicles with the new technology, offering attendees the opportunity to view the new autogas system.