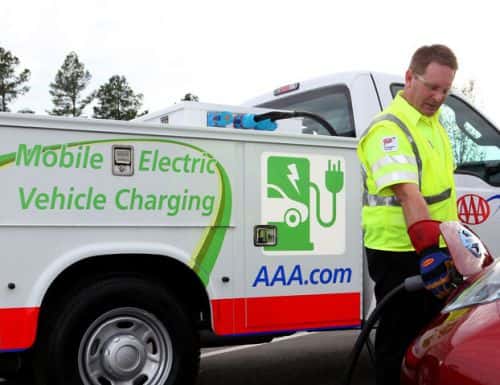 The Automotive Research Center of AAA affiliate the Automobile Club of Southern California has released its newest Green Car Guide, an annual review of light-duty alternative fuel vehicles and low-emission cars and SUVs. And this year, a model not typically circulating in the fleet universe – the Tesla S P85 – is atop the AAA's rankings.
'The Tesla Model S is an incredible car,' said Steve Mazor, manager and chief engineer of the Automotive Research Center. 'It's the fastest green car we've ever tested. It rides and handles very well; it's extremely quiet and stops on a dime.'
Mazor noted that the vehicle has a driving range of about 265 miles, but 'it can take a long time to fully recharge.'
'Nonetheless, the Model S was our top-scoring vehicle this year by a wide margin,' he remarked.
The Green Car Guide examines more than 80 other 'green' vehicles in its latest installment – everything from clean diesels to battery-electric, hybrid-electric and fuel-efficient vehicles. All of the vehicles were tested in 13 categories (emissions, fuel efficiency, acceleration, handling, etc.) and assigned a score, with AAA highlighting the top-scoring vehicles and the 'best value' green vehicles.
For instance, the group ranks the 2014 Chevy Spark 1LT as the green car that offers the best value: fuel economy of approximately 30 mpg at a starting price under $15,000. Following the Spark in the 'best value' ranking are the Hyundai Elantra GLS, Nissan Versa SV, Scion iQ and Nissan Versa Note SV.
Joining the Tesla S P85 among the top-scoring green vehicles are the Toyota RAV4 EV, Audi A7 TDI Quattro Tiptronic, Lexus GS 450h and Nissan Leaf. Five of the top 10 are hybrid/electric vehicles, and five are clean diesels.
The Automotive Research Center tested only one compressed natural gas vehicle, the Honda Civic NGV GX – currently, the only OEM-built CNG-powered passenger vehicle available in the U.S. It scored next to last, at number 82. The model fared better in the 'best value' category, ranking number 53.
A handful of flex-fuel pickup trucks were also tested, including the Ford F-150, Chevy Silverado 1500 and RAM 1500. These trucks are all available in CNG configurations, either from the factory or via aftermarket conversions. The CNG-powered trucks, however, were not tested.
AAA notes that tested vehicles were selected based on emission certifications from the California Air Resources Board and fuel economy ratings from the U.S. Environmental Protection Agency. Tests were performed at the Automotive Research Center in Diamond Bar, the Auto Club Speedway in Fontana and on Southern California roads. Testing procedures were developed by the Society of Automotive Engineers (SAE), EPA and Auto Club.
The AAA Green Car Guide can be accessed here.