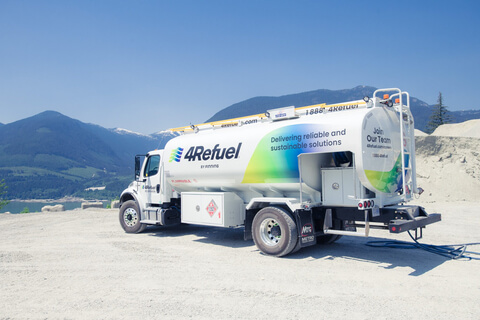 Canadian mobile on-site refueling and fuel management technology company 4Refuel has completed its brand update, introducing core offerings beyond fossil-derived fuel products to diverse market segments.
The company says in addition to traditional diesel, its products include compressed natural gas (CNG), renewable natural gas (RNG), hydrogen, renewable diesel and biodiesel.
"As a company, we've invested in innovation where it strengthens our partnerships with our customers and advances the industries we serve," says Larry Rodo, president and CEO of 4Refuel. "We've found that our customers are diversifying their fuel choices to make positive impacts on their environmental, social and governance performance. In doing so, they need agility from their energy logistics and supply partners. This rebrand represents our commitment to sustainable fuel management solutions as businesses look to decarbonize their operations."
4Refuel's latest service capability upgrades, such as GaaS (gas-as-a-service), feature the mobile on-site refuelling service 4Refuel is known for, with new SWIFT proprietary dispensing technology integrations for applications powered by CNG, RNG and hydrogen.
4Refuel has additionally expanded design and build services via its new ComTech Energy division in order to address emerging market demands for the development of alternative energy infrastructure.
4Refuel is a wholly owned subsidiary of Finning International.