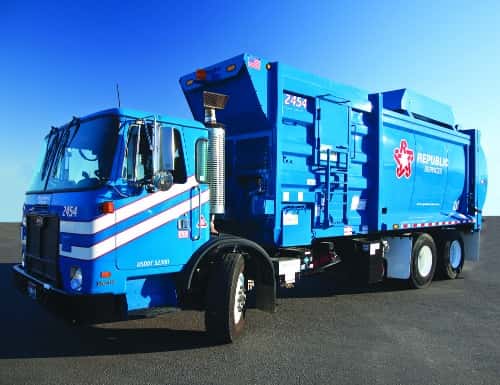 Republic Services Inc., a major refuse and recycling company, recently noted that it currently operates over 2,200 compressed natural gas (CNG) vehicles across the U.S. Furthermore, the company has plans to continue expanding its large CNG fleet.
Steve Saltzgiver, the company's vice president of fleet management, tells NGT News why Republic decided to embrace CNG, as well as offers advice to other fleet operators considering the switch to natural gas.
As Saltzgiver explains, Republic has been committed to CNG vehicles since 1995.
"We believe using CNG vehicles provides us a competitive advantage while reducing the amount of diesel fuel required for our operations, improving air emissions and significantly reducing vehicle noise profiles," he says.
Republic's overall fleet comprises about 16,000 collection trucks, 2,200 of which are powered by CNG.
Saltzgiver says the CNG trucks feature Mack, Peterbilt or Autocar chassis, and they're equipped with either ISL-G or ISX-G engines from Cummins Westport.
To support its alt-fuel fleet, Republic also has 36 on-site CNG fueling stations nationwide. The company worked with Clean Energy Fuels and Tom Mitchell Engineers on the design, installation and maintenance of the facilities.
Saltzgiver says there are two main benefits of refueling at the company's own time-fill stations rather than at other local sites: productivity and price.
"For example, drivers do not have to deviate from their route or wait in line for retail fuel," he explains. "At the end of their route, drivers can connect trucks to the time-fill hoses, lock the doors and go home for the day." Refueling trucks during non-peak hours also helps reduce energy consumption, he says.
"In addition," Saltzgiver notes, "the wholesale price for CNG is generally more advantageous than the local retail price."
Now that Republic has such a large fleet of CNG trucks, how are the vehicles panning out?
Saltzgiver says the company's CNG vehicles reduced its annual consumption of diesel by a whopping 18 million gallons, which adds up to substantial fuel cost savings, and the CNG vehicles typically run 90% quieter than older diesel trucks.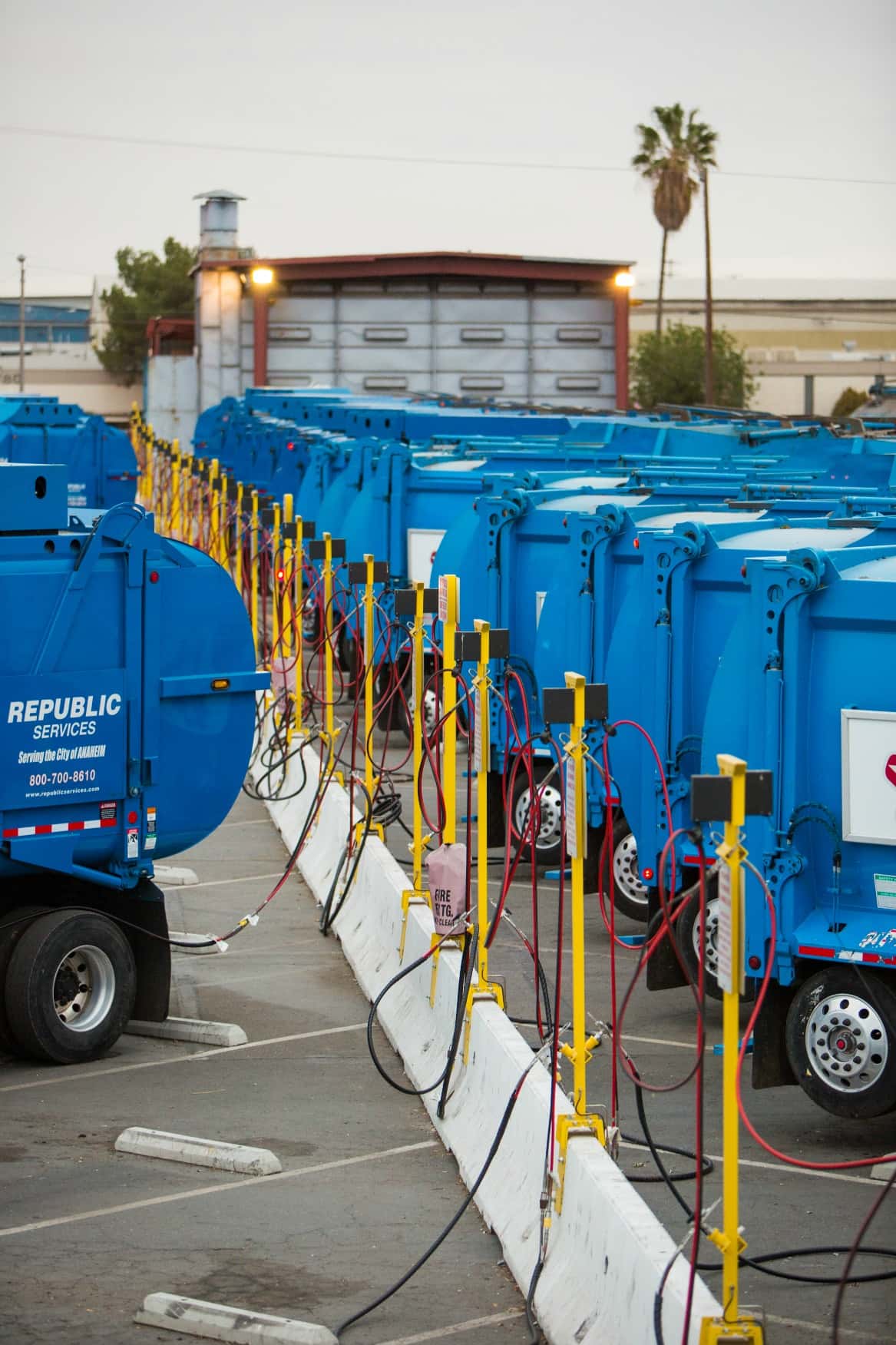 As for any problems Republic has had with its CNG vehicles, Saltzgiver simply says, "Like with any new or emerging technology, there are going to be things to work through. To date, the issues we have encountered are not unique, but rather are the same types of issues that everyone in the industry is working through."
Saltzgiver respectfully declines to provide further details about any issues but says, "We are fortunate to have partners who are truly dedicated to our success."
Saltzgiver does, however, offer advice for other fleets considering a switch to CNG.
"There are many economic, environmental and customer benefits to a CNG-powered fleet," he says. "We have even experienced examples of greater driver productivity in our CNG fleet.
"But, it takes time, planning and a sustained commitment to fully realize these strategic benefits," he continues. "It is not a game of instant gratification. Nor is CNG development a one-size-fits-all proposition."
According to Saltzgiver, fleets should evaluate where CNG makes sense operationally and consider the following:
a progressive regulatory environment;
ability to extend or win new business;
fleet composition (including lifecycle, replacement or redeployment);
suitability of fleet site (including access to gas pipeline, adequate space and ease of permitting); and
the size of the fleet that will return to base.
When asked whether Republic, itself, plans to add more CNG trucks in the future, Saltzgiver says, "Absolutely," later adding, "Our commitment to CNG remains strong."
He says the company has a target to reduce greenhouse-gas emissions from its collection fleet by 3% by 2018.
"Part of our strategy includes introducing approximately 300 new CNG-powered collection trucks per year, over the next three years," he says. "That's almost one new truck per day."