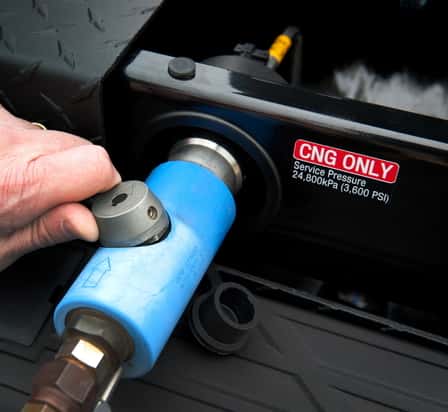 General Motors has announced that its new compressed natural gas (CNG) bi-fuel pickup trucks, the 2013 GMC Sierra 2500 HD and Chevrolet Silverado HD, will command an $11,000 premium over the trucks' base prices, which have not been released. GM also confirmed that fleet managers can begin placing orders for these extended-cab, heavy-duty models tomorrow.
A critical question for GM – and, ultimately, the natural gas vehicle marketplace – is how much sticker shock that $11,000 will cause among fleet operators who are contemplating the deployment of natural gas-powered trucks. If the historical pricing of bi-fuel conversions is the key metric, GM's offering is a step in the right direction.
Lee Grannis, coordinator of the Greater New Haven Clean Cities Coalition Inc., says retrofits are commonly in the $15,000 range, so GM's platform is clearly 'a good deal.'
'It's a lot less than in the past,' he tells NGT News. 'The return on investment is going to come quickly.'
Tim Cole, who runs the alternative fuels program at Ohio Technical College, suspects that $11,000 for a CNG bi-fuel model – considering the relatively low cost of natural gas – is a solid investment.
'The question is, how long will it take to get it back?' he remarks, noting that fleet managers who have easy access to CNG fueling infrastructure will be the ones most compelled by GM's bi-fuel pickups.
Both the Chevy and GMC trucks will use the GM Vortec 6.0-liter V8, modified to transition between gasoline and CNG. The trucks will be built in Fort Wayne, Ind., and shipped to IMPCO Technologies Inc. in Union City, Ind., where the aftermarket bi-fuel delivery and storage system (a Type 3 CNG cylinder in the truck bed) is installed. GM performs valve and seat work, as well as installs the gasoline injectors, in Fort Wayne.
Mike Jones, product manager of GM Fleet and Commercial Operations, says the $11,000 premium reflects not only relatively expensive equipment – such as the CNG tanks – but also costs associated with extensive crash testing, shipping from Fort Wayne to Union City, and warranty coverage.
He contends that, overall, fleet managers are becoming increasingly convinced of the upside of CNG and CNG bi-fuel offerings. For most fleets, an $11,000 investment will be recouped in less than three years, and it helps that operators can turn to familiar dealerships and service operations for purchasing and maintenance.
'When the OEMs become involved in the process, and you have their warranties and networks in place, that's huge for a fleet manager,' Jones says. 'It gives them confidence that they can make something like this work for them.'
The trucks, which will carry GM's three-year, 36,000-mile new vehicle limited warranty and five-year, 100,000-mile limited powertrain warranty, can be optioned as standard or long-box, and two- or four-wheel drive in the extended-cab models. All configurations of the Sierra and Silverado are expected to have a range exceeding 650 miles, GM says.
Photo © General Motors