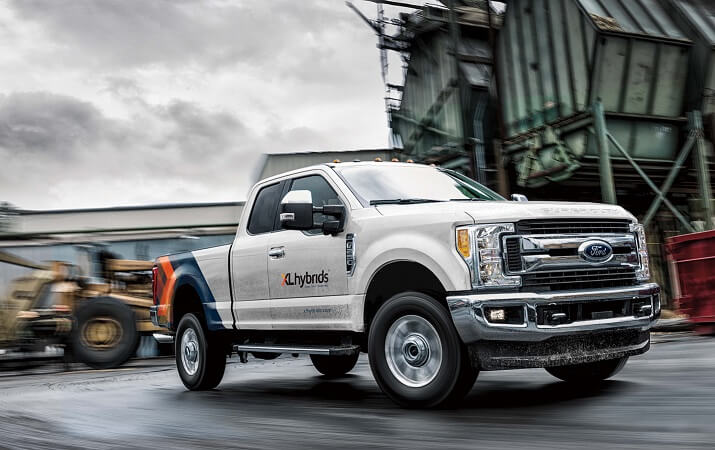 XL Hybrids Inc. says it plans to begin production on the XL3 hybrid-electric drive system for model-year 2018 Ford Super Duty F-250 pickups in the first quarter of 2018.
The company says this will be the first time that Ford F-250 trucks can be ordered by fleet customers with hybrid-electric drive technology. The system can deliver a 25% increase in miles per gallon along with substantial reductions in CO2 emissions.
The XL3 system will be the first offered as a ship-thru upfit on the Ford Super Duty 6.2-liter V8 gasoline engine compatible with a range of wheelbases, cab and bed configurations in both 4×2 and 4×4 options. As with each XL3 installation, all components are installed under the vehicle, preserving the pickup bed's full capacity.
As a partner in Ford's eQVM program, XL Hybrids' XL3 upfits (which leave the OEM engine, transmission, fuel system and exhaust system intact) maintain the complete OEM warranty. They also get a three-year, 75,000-mile warranty from XL Hybrids on the XL3 powertrain.
"Ford Super Duty vehicles are in-demand by XL Hybrids' fleet customers, and so we have developed our hybrid-electric upfit solution for the F-250 pickup to meet our customers' need for power and payload, as well as better fuel economy," says Ed Lovelace, chief technology officer for XL Hybrids.
"We recently surpassed a landmark 50 million total combined customer road miles, and our experience in successfully supporting leading fleets informs our product roadmap. Our solution roadmap continues to be focused on delivering the most seamless, cost-effective fleet electrification solutions for OEM vehicles that our customers ask for."
Orders are being taken now for Q1 2018 ship-thru installation, the company says.