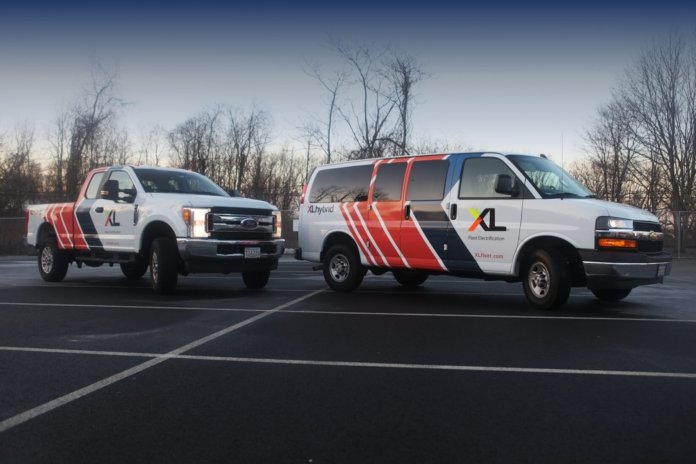 On the heels of a record year of sales – surpassing 60 million customer miles driven – XL Hybrids, a provider of electrified truck solutions for commercial and municipal fleets, has rebranded to XL.
The company says it plans to offer more plug-in vehicle systems to complement its core hybrid-electric technology, as well as roll out enhancements to its connected vehicle telemetry offering, XL Link.
With an increasing number of companies and local/federal agencies taking aggressive steps toward a low-carbon economy, XL says its business has continued to grow. In 2017, XL delivered 234 hybrid-electric vans to Verizon, marking one of the fleet industry's largest-ever single deployments of electrified commercial vehicles in vehicle classes 2 to 6. Furthermore, among new customer deployments for XL is the University of California Los Angeles, which is now using the company's hybrid-electric vans for student transport. Notably, XL also recently announced its new HEV Ford F-250 and PHEV Ford F-150 offerings for commercial fleets.
"Vehicle electrification is a global megatrend, and hundreds of the largest fleets are leading the way with hybrid-electric and plug-in hybrid electric technology," states Tod Hynes, CEO of XL. "Our work with Fortune 500 companies provides a massive opportunity to improve business operations and customer satisfaction while adding to their bottom lines and meeting sustainability targets. Our momentum and team investments will continue to drive us forward in meeting new demands for current and future fleet customers, and our new branding – XL – will help represent our diverse offerings for more plug-in and fleet electrification vehicle solutions."
XL also plans to add 40 new employees in 2018, including software developers, electronics hardware engineers, cloud systems engineers and data scientists to support a range of new product developments. The company will focus on enhancing its XL Link vehicle telemetry platform, which provides actionable intelligence on fleet electrification, including fuel economy, speed, idling, vehicle drive cycle and CO2-emissions reduction.
Having raised more than $50 million in funding to date from industry heavyweights such as IKEA and Exelon investment arm Constellation Technology Ventures (CTV), XL has also added new members to its boards, including Scott Dupcak from CTV and new advisory board member Rick Wagoner, former CEO of General Motors.