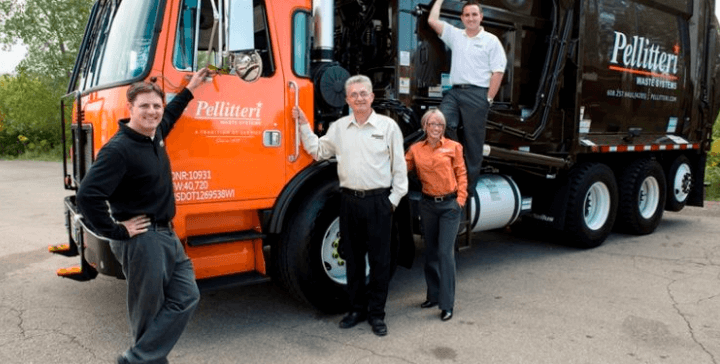 Pellitteri Waste Systems, a Madison, Wis.-based waste disposal and recycling company, has expanded its fleet of trucks to include four compressed natural gas (CNG) vehicles.
Serving commercial, industrial and residential customers in Madison, Wisconsin Dells, Dane County and Green County, Pellitteri Waste Systems says it opted for CNG vehicles to take advantage of the abundant American-generated natural gas resource and the growing number of CNG stations, including those popping up at landfills around the country where the gas given off from trash is converted into truck fuel.
As reported, the Dane County landfill has just such an operation now used solely for county vehicles.
"Being a good environmental steward is woven into our DNA at Pellitteri," says Tim Pellitteri, the owner of the company. "We see CNG trucks as a strategic decision to take care of our planet."
The company bought its first CNG refuse truck about a year ago, and its success encouraged them to add more – despite the higher cost than regular refuse trucks. The company cites the environmentally friendly lower exhaust emissions and quieter running engines as the main motivating factors.
"This is just part of our investment to help lead the way in recycling and other cost-effective waste recovery systems and solutions," Pellitteri adds.