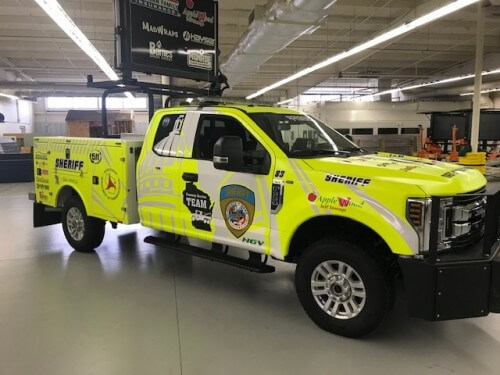 The Dane County Sheriff's Office in Wisconsin has added a new bi-fuel compressed natural gas (CNG) Ford Super Duty F350 truck to its fleet.
The sheriff's office rolled out the freeway service truck today in Madison, Wis., last week with support from area businesses, including American Family Insurance. The truck travels state highway 12/18 between I-90 and Old Sauk Road on a stretch commonly known as the "beltline" in Madison.
"The service truck is a vital tool to keeping our heavily used beltline highway moving as smoothly as possible," says Dane County Sheriff Dave Mahoney. "Traffic safety has always been a priority for the Dane County Sheriff's Office, and the beltline service truck plays a big role in maintaining safety on the beltline."
According to American Family Insurance, the deputies use the truck to help motorists in traffic incidents on the beltline and keep traffic moving safely. In 2018, the previous truck, which also had a bi-fuel CNG system, logged more than 54,000 miles and responded to over 5,400 calls for service. The purchase of the new vehicle was made possible through a Dane County sustainable energy grant.