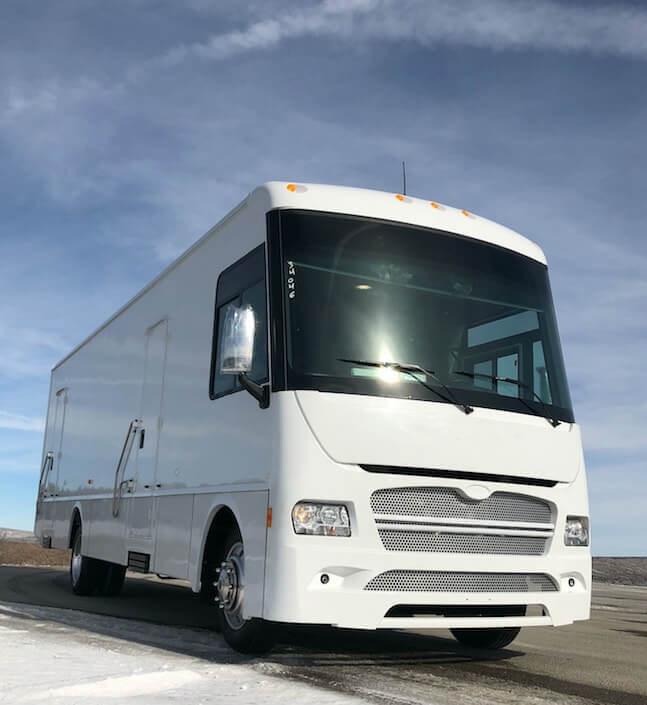 Through its specialty vehicles division, Winnebago Industries Inc., a U.S. manufacturer of recreation vehicles (RVs), has launched an all-electric commercial vehicle platform.
In conjunction, the company has announced a strategic partnership with Motiv Power Systems Inc., a chassis provider for medium-duty electric vehicles, for the development and supply of electric-powered chassis. As part of the strategic partnership, Winnebago intends to make a financial investment in Motiv (the terms of which were not disclosed).
Winnebago Industries' all-electric/zero-emission commercial vehicle is based on a Class A RV platform using Motiv's Ford F53-based EPIC all-electric chassis. It will be available in 33- and 38-foot lengths with a gross vehicle weight rating up to 26,000 pounds. The vehicle is suited for urban and semi-urban short-range commercial applications such as mobile medical clinics, bloodmobiles, mobile classrooms and mobile outreach vehicles. Significant road testing has been conducted on the vehicle, which houses six to eight batteries and delivers an expected range of 85-125 miles on a full charge.
"Motiv's EPIC all-electric chassis, paired with Winnebago Industries' highly regarded commercial shell, is the perfect fit for end-users who seek reliable performance and functionality," says Jim Castelaz, founder and CEO of Motiv. "We are excited to collaborate with Winnebago Industries as we work together to grow the electric commercial vehicle market."