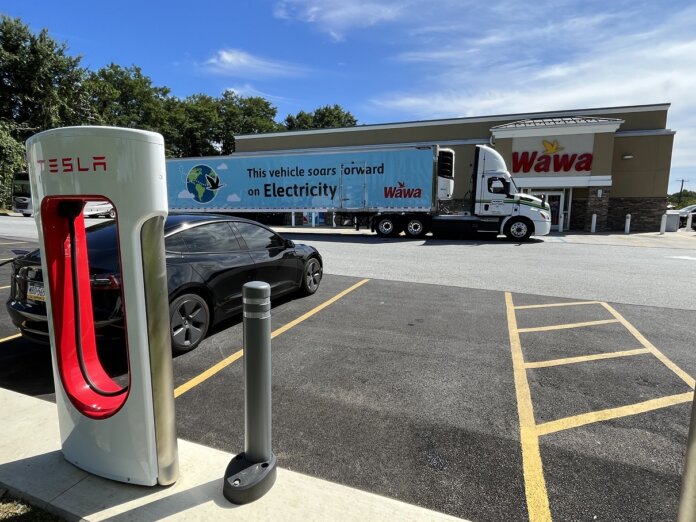 Convenience retailer Wawa has announced two milestones in the company's electric vehicle efforts, including reaching its 150th store offering EV charging across its operating area and launching its first battery-electric truck in partnership with Penske Logistics.
Wawa continues to increase the number of stores hosting EV charging stations to increase charging access and convenience to drivers of electric vehicles. Wawa began hosting EV charging at its first store in 2017. Wawa now offers Tesla Superchargers and EV chargers with both CCS and CHAdeMO connectors through providers like EVgo, ChargePoint and Electrify America.
To date, Wawa has hosted over 6 million charging sessions across its network. Moreover, Wawa stores host more Tesla Superchargers than any other retail chain in North America, the company says.
Second, Wawa is partnering with Penske to operate a Freightliner eCascadia battery-electric truck as part of a six-month pilot program. This is the first electric truck used in Wawa's history and the first Penske truck of this kind in the Philadelphia region. Wawa and Penske will test and learn more about this emerging new technology to consider future application or expansion to its delivery fleet.
"It gives us great pride to cut a ribbon on our 150th store offering EV charging faster than we anticipated, and to continue to grow the number of stores we have hosting EV charging," says Brian Schaller, president of Wawa. "We're also thrilled to spread our wings in the electric vehicle space by testing our first electric truck with Penske that will allow us to learn more about our continued efforts to have a positive impact on our EV journey."