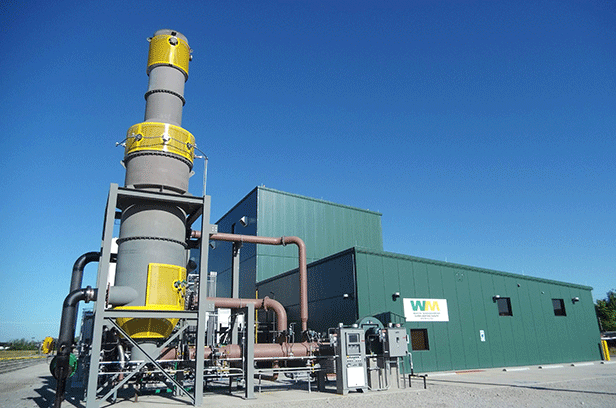 Waste Management has unveiled a $30 million renewable natural gas (RNG) facility in Louisville, Ky.
The new Outer Loop Recycling and Disposal Facility processes up to 5,000 standard cubic feet per minute of incoming landfill gas and turns it into usable RNG. This equates to about 2,500 mmbtu per day of RNG, or 18,000 diesel gallon equivalents (DGE) per day, enough to fuel approximately 800 of Waste Management's compressed natural gas (CNG) collection trucks.
The company notes that the RNG facility serves as a model for a planned rollout of additional facilities in the coming years. Waste Management also operates RNG facilities in Illinois (Milam Landfill) and Ohio (American Landfill).
"Waste Management's innovative renewable natural gas facilities close the loop by converting discarded waste into beneficial gas that can go into the pipeline and fuel our very own CNG collection vehicles," says Jim Trevathan, Waste Management's executive vice president and chief operating officer.
Waste Management's 110 CNG stations deliver 60 million DGEs of natural gas each year. Its fleet of 6,700 natural gas trucks represents 30% of the company's overall collection fleet. Waste Management says it is continuing to convert its fleet from diesel to natural gas; approximately 80% of its new truck purchases are now powered by natural gas.