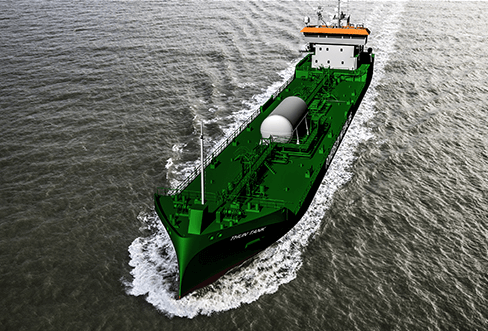 The technology group Wärtsilä says it has been contracted to supply the engines, propellers and fuel supply systems for four new tanker vessels that will run on both liquefied natural gas and diesel.
According to the company, the new vessels are being built at the Scheepswerf Ferus Smit yard in the Netherlands for Sweden-based Erik Thun AB. The order with Wärtsilä was booked in the first quarter of 2017.
The 115-meter-long coastal tankers feature a next-generation design focusing on high energy efficiency, low noise levels both above and below the water, and environmental sustainability. The Wärtsilä solutions were selected primarily because they meet all of these criteria.
As reported, the full scope of supply for each of the four vessels includes a six-cylinder Wärtsilä 34DF dual-fuel main engine, a Wärtsilä LNGPac fuel supply system, a Wärtsilä gas valve unit, and a controllable pitch propeller (CPP) with HP nozzle. The equipment will be delivered to the yard in 2018.
"The fuel efficiency of the Wärtsilä 34DF engine, whether in gas or diesel mode, was a prime consideration in its selection for these 'next-generation' tankers. Similarly, the successful track record of both the CPP and LNGPac solutions, and the proven efficiencies that they have demonstrated, were convincing arguments in our favour," says Aaron Bresnahan, vice president of sales for Wärtsilä Marine Solutions.
When delivered, the ice-class 1A vessels will be capable of handling the year-round sailing conditions in the Baltic Sea, says the company.