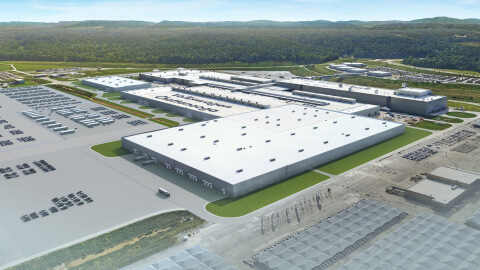 Volkswagen of America has started construction on its electric vehicle production facility in Chattanooga, Tenn., where production is scheduled to begin in 2022.
The Chattanooga site expansion, which will be Volkswagen's North American assembly base for electric vehicles, represents an investment of about $800 million and will require the addition of about 1,000 jobs.
"This is a big, big moment for this company," says Scott Keogh, president and CEO of Volkswagen Group of America. "Expanding local production sets the foundation for our sustainable growth in the U.S. Electric vehicles are the future of mobility, and Volkswagen will build them for millions, not just millionaires."
Volkswagen began long-range EV production earlier this month in Zwickau, Germany, and will then roll out assembly worldwide, including in Anting and Foshan, in China, in 2020 and in the German cities of Emden and Hanover by 2022.
The production version of the ID. CROZZ will initially be assembled in Zwickau. Production of that vehicle is set to begin in Chattanooga in 2022.
The expansion of the plant includes a 564,000-square-foot addition to the body shop. Volkswagen will build both internal combustion engine vehicles as well as battery electric vehicles on the same assembly line.
The company also announced it intends to build a 198,000–square-foot plant for the assembly of battery packs for EVs at the Chattanooga site.