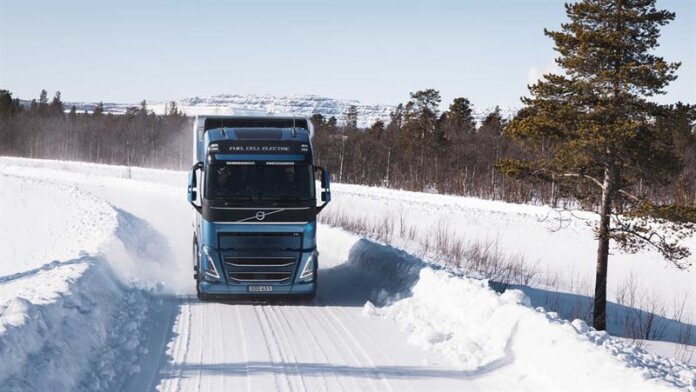 Volvo Trucks says it has been testing its hydrogen-powered electric trucks on public roads in one of the most sever environments: above the Arctic Circle in the north of Sweden.
"Trucks are operating seven days a week and in all types of weather. The harsh conditions on public roads in northern Sweden, with ice, wind and lots of snow, make an ideal testing environment," says Volvo Trucks' Helena Alsiö. "I am pleased to say that the tests are going well, confirming tests we carried out beforehand, both digitally and on our confined test track."
Fuel cell electric trucks powered by hydrogen will be especially suitable for longer distances and when using only batteries isn't an option: for example, in rural areas with no charging infrastructure.
Volvo currently offers a broad product lineup of battery electric trucks, with six models in series production, catering to a very wide variety of transports in and between cities.
The fuel cell electric trucks will be available in the second half of this decade. Tests with haulers will start a few years before the commercial launch. To speed up the development, Volvo Group has joined forces with Daimler to develop and produce fuel cell systems that are tailor-made for heavy-duty vehicles.