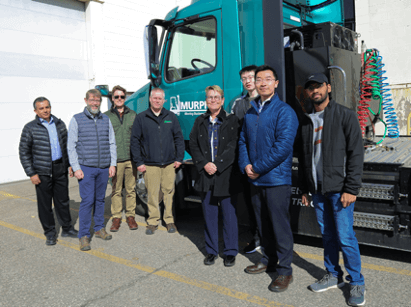 Volvo Trucks North America is working with the University of Minnesota (UMN) to conduct extreme weather testing for its Class 8 VNR Electric model to analyze the impact of ambient temperature on a truck's battery life.
UMN has teamed up with Murphy Logistics Solutions to test the trucks in Minnesota with cold winter temperatures and H-E-B Grocery Co. in Texas to test during periods of intense summer heat. The extreme weather testing project, which will demonstrate the capability of the Volvo VNR Electric using real-world fleet routes, is part of a Battery Efficiency for Sustainable Trucks (BEST) project sponsored by the U.S. Department of Energy's (DOE) Vehicle Technology Office.
The project will track the results of two Volvo VNR Electric engineering trucks with a six-battery configuration that are rated to provide up to 275 miles of range. Volvo Trucks is analyzing the battery-electric trucks' performance on different routes in extreme temperatures with varying terrains and payload weights to better understand the challenges these factors present to help customers improve route planning and optimization.
Murphy and H-E-B will operate the trucks on freight routes that exceed 250 miles in a day utilizing drivers in their fleets who have been trained by the Volvo Trucks electromobility team to utilize regenerative braking and other safe driving practices designed to maximize vehicle range. The VNR Electric trucks will leave the warehouse at the beginning of the day with a 100% state of charge (SOC) and will ideally return near empty (~10% SOC) at the end of their routes to take full advantage of usable energy in the battery.
"This research project is a critical step to ensuring the efficiency and reliability of Class 8 battery-electric trucks regardless of the environmental factors," says Keith Brandis, vice president of system solutions and partnerships for Volvo Group. "The results of this testing can be expected to bolster fleets' confidence in the Volvo VNR Electric trucks' reliability and performance in all weather conditions while still providing the creature comforts for drivers."
To combat range reductions during extreme temperatures, a dedicated battery thermal management system (BTMS) is included with the Volvo VNR Electric model to manage and maintain the optimum battery temperature range. The BTMS is a dedicated heating and cooling system connected to the batteries, with the purpose of avoiding the chemical reaction slowdown or potential cell damage in extreme conditions. This, in turn, provides long life and excellent performance from the batteries under a variety of weather conditions.
Once the research project in both climates is complete, UMN will publish the results in a series of conference and journal papers, in addition to sharing information with U.S. DOE and Volvo Trucks in the form of a final project report.
The two electric trucks participating in the field tests are supported by the Volvo Trucks commercial support teams and are maintained and serviced by Nuss Truck & Equipment in Minneapolis.