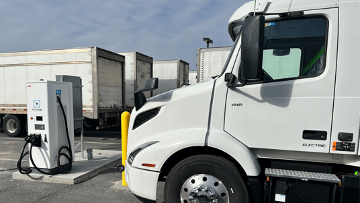 Volvo Trucks has launched Turnkey Solutions, a consolidated fleet management process for procuring vendor services, parts and products for electric vehicle charging, in addition to outlook planning for incentives, installation, and interfacing with utility companies to streamline solutions for electric vehicle infrastructure development.
The Turnkey Solutions electromobility program has two full-service partners – InCharge Energy and Gilbarco Veeder-Root – and is available to all Volvo Trucks North America customers.
"Identifying sources for charging infrastructure can be an overwhelming task for fleet managers, so now all aspects of EV charging are covered through the Turnkey Solutions program," says Peter Voorhoeve, president, Volvo Trucks North America. "We simplified the process for customers, allowing them to easily turn to our solution-oriented vendor partners who understand key aspects of the EV charging industry."
The Turnkey Solutions program manages all aspects of the process to develop charging infrastructure and covers charging hardware, software, permitting, installation, all the interaction with the utility companies, and maintaining charging equipment. Customers can receive quotes from both InCharge Energy and Gilbarco Veeder-Root to support their charging needs and decide which way to move forward.
When customers sign up for the Turnkey Solutions program, they are paired with a Volvo Trucks dealer who advises them on three pathways for their EV infrastructure development:
Designing the customers' infrastructure plans, presenting funding and financing opportunities, and identifying implementation partners;
Providing guidance and support to the customer as they manage components of their company's own program; or
Combining the two approaches where the customer manages their own infrastructure development but the charging hardware is acquired through Volvo Trucks' Vendor Direct Shipping program.
The Vendor Direct Shipping program was launched in late 2022 with Heliox and Gilbarco Veeder-Root and complements the Turnkey Solutions program. Through the Vendor Direct Shipping program, customers and dealers can order equipment through the dealership parts portal. Volvo Trucks sales teams can assist customers with the process and determine the type of charger best equipped for the application.
Volvo Trucks recently added InCharge Energy to both the Turnkey Solutions and Vendor Direct Shipping programs.
Vendor Direct Shipping hardware options include:
Gilbarco Veeder-Root 
Kempower 50kW Mobile DC Fast Charger (Single Port CCS-1) 
Kempower C800 50-600kW charging system with up to 8 ports (CCS-1)
ABB Terra 124 120kW DC Fast Charger (Dual Ports CCS-1) 
ABB Terra 184 180kW DC Fast Charger (Dual Ports CCS-1) 
Heliox 
50kW Mobile DC Fast Charger (Single Port CCS-1)
180kW Flex DC Fast Charger (Up to 3 Dispensers with CCS-1) 
180kW All in One unit (Single port CCS-1 & additional up to 2 DC columns with CCS-1) 
InCharge Energy
ABB Terra 54 50kW (Single Port CCS-1)
ABB Terra 124 120kW DC Fast Charger (Dual Ports CCS-1) 
ABB Terra 184 180kW DC Fast Charger (Dual Ports CCS-1) 
ICE-60kW All in One (Dual Ports CCS-1) 
ICE-120kW All in One (Dual Ports CCS-1) 
ICE-180kW All in One (Dual Ports CCS-1) 
ICE-480 480kW Cabinet with up to 4 ports