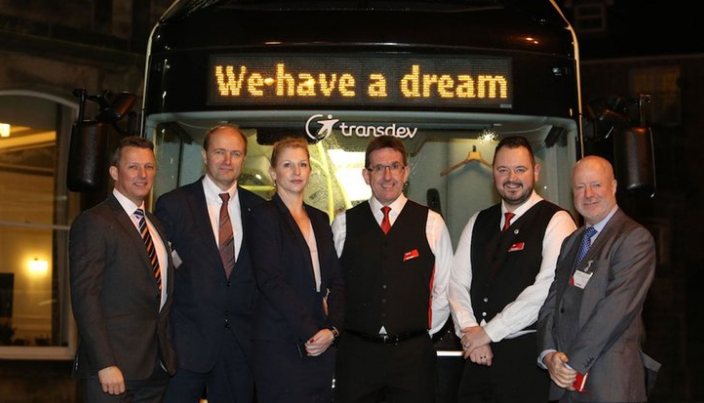 While demonstrating its fully electric bus Gothenburg at an event on Feb. 3, Volvo Buses announced that it received an order for eight electric buses from the Harrogate Bus Co., owned by Transdev Blazefiel.
According to Volvo, the vehicles will operate in Harrogate, 90 kilometers northeast of Manchester.
When the vehicles enter service in 2018, the project will be the first of its kind in the U.K. introducing full-electric vehicles using 'opportunity charging' via the common interface OppCharge, whereby the charging stations can also be used by electrified buses from other vehicle manufacturers.
OppCharge is now starting to be used as a common interface in more than 12 countries. As reported, opportunity charging takes place via a specialist overhead mast, which connects to the bus via a pantograph. Charging is fully automated and takes between three and six minutes to complete. Volvo's electric bus has 80% lower energy consumption than the corresponding diesel bus.
"It is extremely gratifying that Volvo's first full electric buses will enter into service in the U.K. next year. The U.K. is one of our biggest markets for our electromobility program, and we are excited about working together with Transdev Blazefield to make Harrogate a U.K. leader in clean, green public transport," says Håkan Agnevall, president of Volvo Buses.
Nick Page, managing director for Volvo Bus U.K. & Ireland, says, "Volvo Bus has been at the forefront of environmentally considerate and sustainable technology development during the last 50 years, and our latest range of Electromobility vehicles are setting a standard in Europe not only in terms of emissions, but also for their efficiency and flexibility in operation."
As reported, the project has been partly funded by the government's Low Emission Bus Scheme.
The largest single market for Volvo's hybrid buses thus far is the U.K., which accounts for almost half (1,425) of the vehicles in operation.