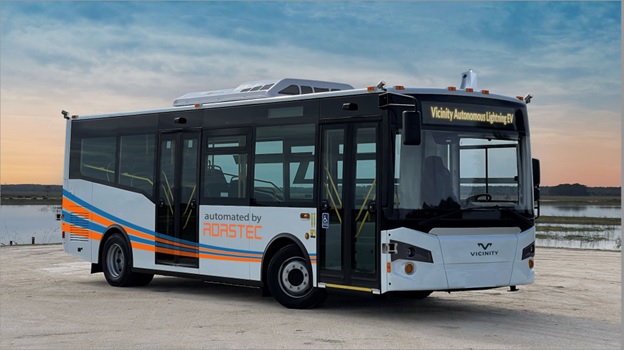 Commercial electric vehicle manufacturer Vicinity Motor Corp. has formed a partnership with automated driving software platform provider ADASTEC to create an SAE Level-4 automated Vicinity Lighting EV transit bus – the Vicinity Automated Lightning EV – for the North American market.
The partnership brings together Vicinity's expertise in medium-duty, accessible, fully electrified low-floor transit vehicles with ADASTEC's SAE Level-4 automated driving software platform, flowride.ai. ADASTEC's solutions can be integrated into buses and serially produced, enabling transit buses to operate in mixed traffic on public roads while also meeting all public transportation requirements.
"To achieve scalability, we partner with OEMs from the beginning instead of retrofitting or trying to develop our own vehicle," says Dr. Ali Ufuk Peker, CEO of ADASTEC. "This allows us to leverage more than 100 years of experience in the automotive manufacturing industry."
ADASTEC is headquartered in Michigan, with an R&D office in Istanbul and offices in Brabant, The Netherlands, and Stockholm.