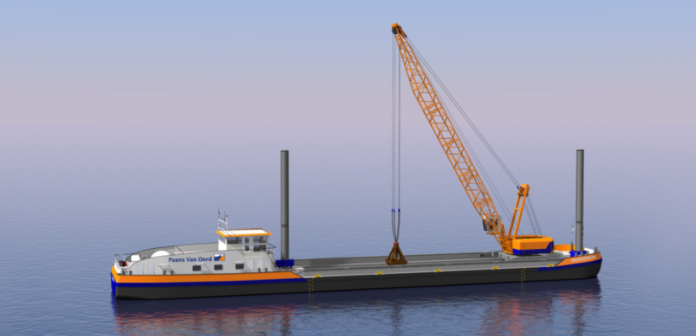 Van Oord, an international contractor specializing in dredging, marine engineering and offshore projects, has ordered the construction of a new crane vessel that will be powered by liquefied natural gas (LNG).
This vessel, which will be named Werkendam, will be Van Oord's first LNG-powered vessel. It will generally be deployed to Netherlands-based projects executed by subsidiary Paans Van Oord.
The Werkendam is being built by Neptune in Hardinxveld-Giessendam, the Netherlands, and it will take approximately 12 months to build. After completion, the vessel will be able to run on LNG, with gas oil as backup. According to the company, the Werkendam will be able to store enough LNG on board to sail and operate for 14 days without bunkering LNG.
Thanks to smart features, the vessel will use less fuel and emit less CO2 without compromising operational production.
The Werkendam will be equipped with energy storage systems and various sensors, which will monitor the energy consumption of almost all of the equipment and systems on board. The data produced by these monitoring systems will provide crew members with an insight into energy consumption, enabling them to respond appropriately.
"Energy efficiency is one of the top items on our sustainability agenda," says Jaap de Jong, staff director of the ship management department at Van Oord. "To reduce our carbon footprint, we are researching the use of alternative fuels, such as LNG and biofuel. With this investment, we will be gaining experience of LNG-powered vessels and the related benefits."