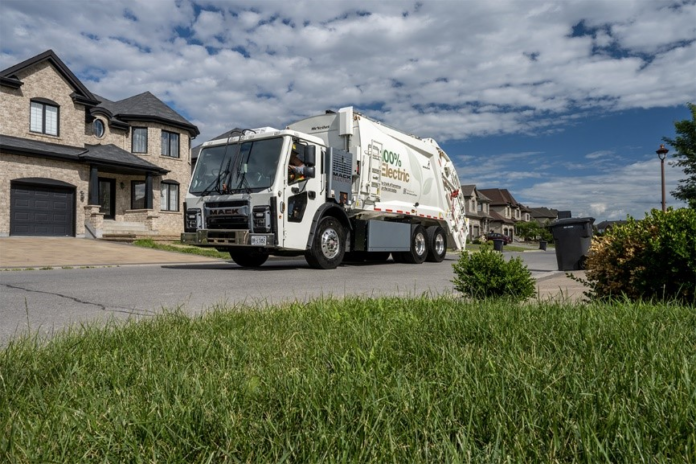 ACE Recycling & Disposal, based in West Valley City, Utah, has ordered a Mack LR Electric Class 8 refuse truck to add to its residential-route fleet.
"Mack Trucks is excited ACE Disposal chose a Mack LR Electric refuse vehicle to further its sustainability efforts for their customers in Utah, while also meeting their own sustainability goals," says Jonathan Randall, president of Mack Trucks North America. "Mack is committed to providing refuse solutions that offer zero emissions and improve sustainability for the benefit of the environment."
The Mack LR Electric will operate in a residential setting, with a goal of collecting from about 900 to 1,200 stops each collection day. The truck is expected to be delivered in September and will be equipped with an automated side loader.
Mountain West Truck Center in West Valley City, Utah, will service and support the vehicle.
ACE Disposal, a 40-year-old company, has a longstanding history of being in the forefront of innovation and alternative fuels for the industry. ACE was the first to order an electric garbage truck and the first to use a CNG garbage truck in Utah. ACE currently operates 66% of its fleet on alternative fuel, equating to 155 trucks.
"It's always been important to ACE to make smart business decisions, while also maintaining a sustainable company for our people and our planet," says Zach Buhler, sales manager for ACE Recycling & Disposal. "We have a longstanding partnership with Mack for many years. Their quality is top-notch, and as soon as they had an electric truck with battery technology that could last an entire route, it was a no-brainer to order one."
ACE Disposal operates 370 pieces of equipment, including 250 refuse and recycling trucks, 50 support vehicles and 70 transfer station loading and hauling equipment. Currently, ACE operates 21 Mack vehicles in its fleet.
The Mack LR Electric offers a standard 376 kWh of total battery capacity; twin electric motors produce 448 continuous horsepower and 4,051 lb.-ft. of peak torque output from zero RPM.