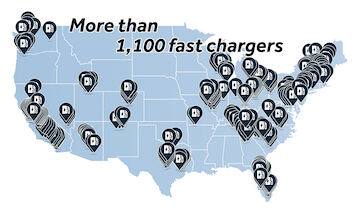 Public EV fast-charging network EVgo says drivers used its infrastructure to drive more than 75 million miles in 2018, representing 88% growth from 2017.
With more than 1,100 public fast chargers in 34 states and 66 markets across the country, EVgo now serves more than 125,000 customers who drive a full range of today's fast charge-capable electric vehicles.
"2018 was a banner year for EVs, and EVgo's 88 percent growth enabled 75 million electric vehicle miles," says Cathy Zoi, EVgo CEO. "EVgo plans to double our fast-charging capacity by the end of 2020, working with utilities to accelerate EVgo's delivery of convenient and reliable fast charging across the U.S."
EVgo says its fast chargers are compatible with all EV models currently on the market that accept DC fast charging. The company offers a variety of flexible pricing options for drivers, including pay as you go and low-cost membership options.