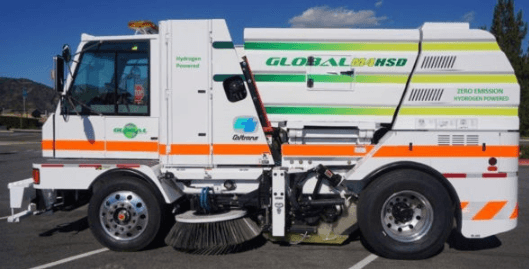 US Hybrid Corp., which provides electric and hybrid traction drive systems for medium- and heavy-duty commercial trucks, municipality vehicles and fuel cell transit buses, has received an order from Global Environmental Product to produce hydrogen fuel cell-powered street sweepers for the California Department of Transportation (Caltrans).
According to US Hybrid, the fuel cell street sweepers are manufactured in San Bernardino by GEP, the electric powertrain is manufactured in Torrance, and the fuel cell is manufactured in South Windsor.
As reported, this order is the result of a five-year demonstration and operation of the diesel hybrid electric street sweeper for the New York Department of Sanitation.
These zero-emission street sweepers will be powered by advanced freeze capable, high-efficiency FCe 80, 80 kW fuel cell engines with a 200 kW direct electric drive powertrain system with electric drive auxiliaries.
US Hybrid says the fuel cell street sweeper will reduce fuel consumption to less than half with fast fueling and 24/7 operation and also says that the design is more operator-friendly and reliable, with significant reductions in operating noise and reduced fuel and maintenance costs.
Abas Goodarzi, US Hybrid president and CEO, says, "US Hybrid's proven power electric powertrain and fuel cell engine technology will provide Caltrans with clean, quiet sweepers that will dramatically reduce street-level emissions. US Hybrid focuses on niche applications that will be most benefited by zero-emission technology, and the street sweeper's low speeds, curbside presence and power demand make it an optimal application to showcase the fuel savings and zero emission that our products provide."