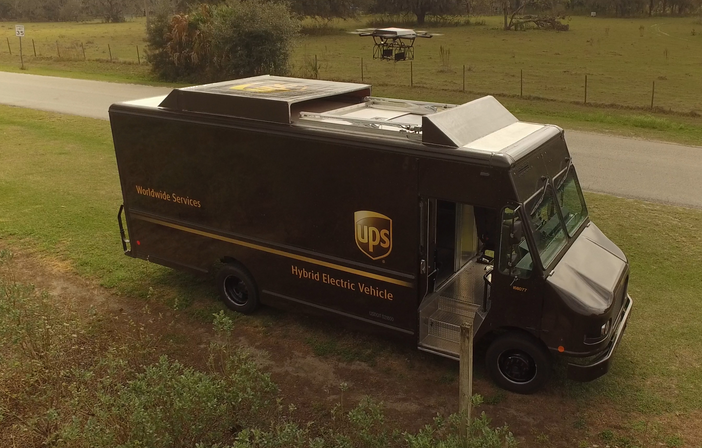 In collaboration with Workhorse Group, an Ohio-based battery-electric truck and drone developer, UPS has successfully tested a drone that launches from the top of an electric UPS fleet vehicle, autonomously delivers a package to a home and then returns to the vehicle while the driver continues along the route to make a separate delivery.
Workhorse built both the drone and the electric UPS package car used in the test, which was conducted on Monday in Lithia, Fla.
"This test is different than anything we've done with drones so far. It has implications for future deliveries, especially in rural locations where our package cars often have to travel miles to make a single delivery," says Mark Wallace, UPS senior vice president of global engineering and sustainability. "Imagine a triangular delivery route where the stops are miles apart by road. Sending a drone from a package car to make just one of those deliveries can reduce costly miles driven. This is a big step toward bolstering efficiency in our network and reducing our emissions at the same time."
With ORION, UPS' On-Road Integrated Optimization Navigation routing software, a reduction of just one mile per driver per day over one year can save UPS up to $50 million. UPS has about 66,000 delivery drivers on the road each day. Rural delivery routes are the most expensive to serve due to the time and vehicle expenses required to complete each delivery.
"Drivers are the face of our company, and that won't change," Wallace says. "What's exciting is the potential for drones to aid drivers at various points along their routes, helping them save time and deliver on increasing customer service needs that stem from the growth of e-commerce."
The drone used in Monday's test was the Workhorse HorseFly UAV Delivery system, a high-efficiency, octocopter delivery drone that is fully integrated with Workhorse's line of electric/hybrid delivery trucks. The battery-powered HorseFly drone recharges while it's docked. It has a 30-minute flight time and can carry a package weighing up to 10 pounds.
For this test, Workhorse preset the route for the drone, but in the future, routes could be determined by UPS' ORION.
Unlike all of the previous tests, the most recent UPS drone test shows how drones might assist in making non-urgent residential deliveries as part of the day-to-day operation.
UPS is no stranger to new technologies, as it boasts a massive and still-growing alternative fuel and advanced technology fleet.
Last October, the delivery company announced its plans to expand, with 200 more hybrid-electric delivery trucks. The trucks, also manufactured by Workhorse Group, began to roll out as of January in Arizona, Texas, Nevada, Mississippi, Alabama, Georgia and Florida.
In addition to hybrid-electric vehicles, the company's alt-fuel fleet includes all-electric, hydraulic hybrid, compressed natural gas, liquefied natural gas, propane and lightweight fuel-saving composite body vehicles. UPS also uses millions of gallons of lower-carbon-footprint renewable diesel and renewable natural gas in its fleet each year.