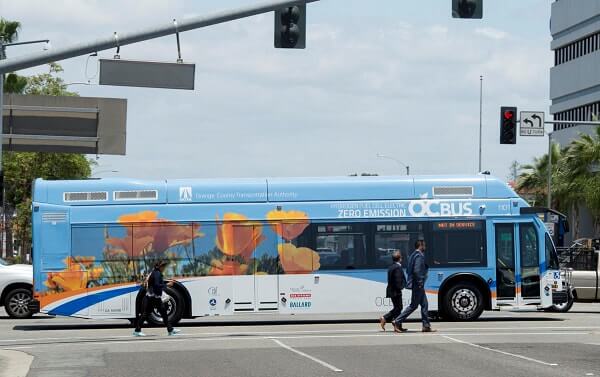 Trillium CNG has announced plans to expand its services to include hydrogen fueling, as well as electric vehicle (EV) charging infrastructure, solar panel installation, and microgrid design and construction.
The longtime compressed natural gas (CNG) fueling provider, part of the Love's Family of Companies, will begin construction on its first hydrogen fueling station this summer for the Orange County Transportation Authority's (OCTA) facility in Santa Ana, Calif.
The facility, located at 4301 E. MacArthur Blvd., will fuel transit buses with approximately 35 kilograms of hydrogen per bus in six to 10 minutes simultaneously from two fueling lanes. Though OCTA's hydrogen bus fleet will initially comprise 10 hydrogen fuel cell electric buses, the station will be built to fuel a fleet of 50 buses.
The infrastructure will be added to OCTA's existing CNG fueling lanes. The current station was designed and built by Trillium in 2007 and continues to be maintained by Trillium.
"While compressed natural gas remains a high priority for Trillium, diversification of customer needs, products and services within the transportation industry is driving our expansion," says Bill Cashmareck, managing director of Trillium CNG. "Each alternative fueling source has its own set of benefits, and we want to meet the needs of our customers in as many ways as possible."
"OCTA has a long history of implementing clean, sustainable technology into our fleet. As we look toward the future, it's important we continue expanding these efforts," adds Cliff Thorne, OCTA's director of maintenance and motorist services. "What's critical is ensuring we meet the needs of the agency from an operational perspective and continue delivering high-quality transit service for our riders."
Air Products & Chemicals Inc. will supply and deliver liquid hydrogen on a weekly basis to the new facility. The fuel will then be pumped and vaporized into high-pressure gas before being dispensed into the buses.
The Center for Transportation and the Environment (CTE) is managing the project. The nonprofit secured funds from the California Air Resources Board (CARB) through the California Climate Investments program.
"California is proud to be on the forefront of the fight for clean air," comments Steve Cliff, CARB's deputy executive officer. "Funds from the state's landmark cap-and-trade program help forward-looking transit agencies like OCTA secure clean energy such as hydrogen to modernize and transform their fleets, enabling them to meet both our climate and air quality goals."
As for the company's other expansions, Trillium plans to introduce EV charging stations for its customers and at select Love's Travel Stops locations later this year. Solar panel installation and microgrid design and construction will also be introduced later this year, Trillium says.