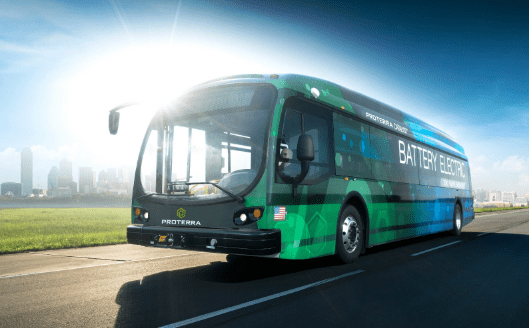 Park City Transit, a fare-free system serving Park City and areas of Summit County, Utah, says it will operate a zero-emission Proterra Catalyst electric shuttle during the 33rd edition of the Sundance Film Festival, which began Tuesday, Jan. 17, and runs through Sunday, Jan. 29.
"We are excited to complement Sundance's New Climate programming with Park City's new zero-emission, battery-electric bus," says Park City Mayor Jack Thomas. "It's our hope that this preview of our new Proterra fleet to visitors from around the world will inspire others to consider clean, quiet electric transit in their communities."
With the goal of becoming completely carbon-neutral by 2032, Park City claims to be America's first-ever mountain resort community to embrace the economic and environmental benefits of battery-electric buses. Park City Transit has purchased six Proterra Catalyst buses to establish America's first electric bus rapid transit route in a resort community, along State Road 224. As reported, the full fleet of buses will be deployed in June.
"The electric buses will make a contribution to the reduction in local tailpipe emissions and will assist with the county's climate action goals," says Summit County Councilmember Glenn Wright.
In conjunction with the launch of the free Sundance battery-electric shuttle, Park City Transit and The Center for Sustainable Electrified Transportation at Utah State University, with support from Proterra, are hosting an electrified transportation roundtable with private- and public-sector leaders from throughout Utah. The gathering will offer the opportunity for state and local officials, along with the business community, to exchange ideas on technologies and opportunities for electric transportation throughout Utah.
In addition, on Jan. 17, Rocky Mountain Power held a sneak peak of its U.S. Department of Energy-funded Western Smart Plug-in Electric Vehicle Community Partnership, a program to develop a large-scale sustainable plug-in electric vehicle charging infrastructure network and related adoption programs.
"Air quality and climate change are some of the biggest threats now confronting mountain resort communities," says Ryan Popple, CEO of Proterra. "Sustainability initiatives play a critical role in keeping our ski and snowboard destinations pristine. We applaud Park City for their forward-thinking leadership in adopting transportation policies that include zero-emission transit vehicles and hope that other mountain resorts will be inspired by their initiative."