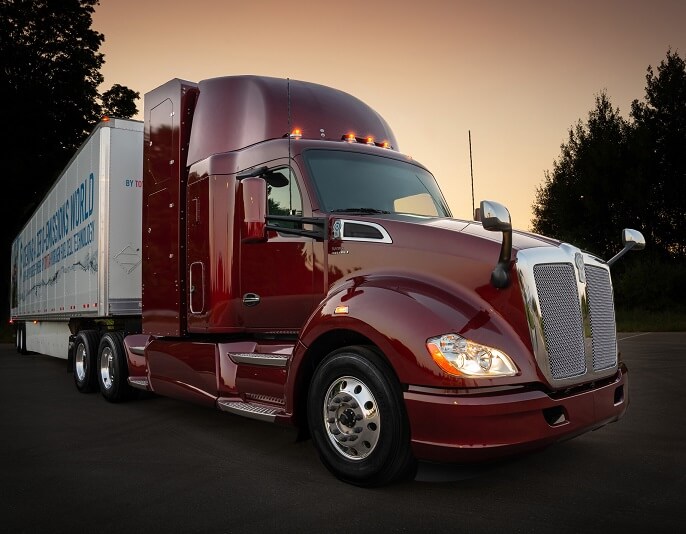 Toyota has unveiled the second iteration of its hydrogen fuel cell electric Class 8 truck.
The new truck, known internally as "Beta," expands on the capabilities of Toyota's first Project Portal test vehicle by increasing the estimated range to more than 300 miles per fill. The truck also enhances versatility and maneuverability with the addition of a sleeper cab and a unique fuel cabinet combination that further increases cab space without increasing wheelbase, according to the automaker.
Since it first began operation in April 2017, the Project Portal "Alpha" truck has logged nearly 10,000 miles of testing and real-world drayage operations in and around the Ports of Long Beach and Los Angeles while emitting nothing but water vapor, says Toyota. The Beta vehicle will begin drayage operations in the fall, increasing the ports' zero-emission trucking capacity and further reducing the environmental impact of drayage operations.
According to Toyota, Project Portal 2.0 builds on the lessons learned from the launch of the Alpha vehicle in 2017. The heavy-duty truck was the result of a skunkworks effort within Toyota that moved from initial concept to a fully capable drayage truck driving silently out of a Michigan garage in just over a year. Engineers and technicians reconfigured the wire harnesses, electronics and other components of two off-the-lot Mirai fuel cell electric cars to create an OEM-built, zero-emission, heavy-duty truck.
With a gross combined weight capacity of 80,000 lbs. and a driving range of more than 200 miles per fill, the 670-plus horsepower Alpha truck produces 1,325 pound-feet of torque from two Mirai fuel cell stacks and a 12 kWh battery. Project Portal Beta maintains these torque and horsepower numbers while also extending the range of the vehicle and pushing forward on other key performance metrics, says Toyota.
"By evaluating the first truck in our test facilities and on the actual roads in the L.A. area, we made a list of improvements for the Beta truck build process and performance enhancements," says Andrew Lund, chief engineer for the project. "We needed to move beyond a proof of concept, which the first truck accomplished, to something that is not only better than the original but is also more commercially viable."