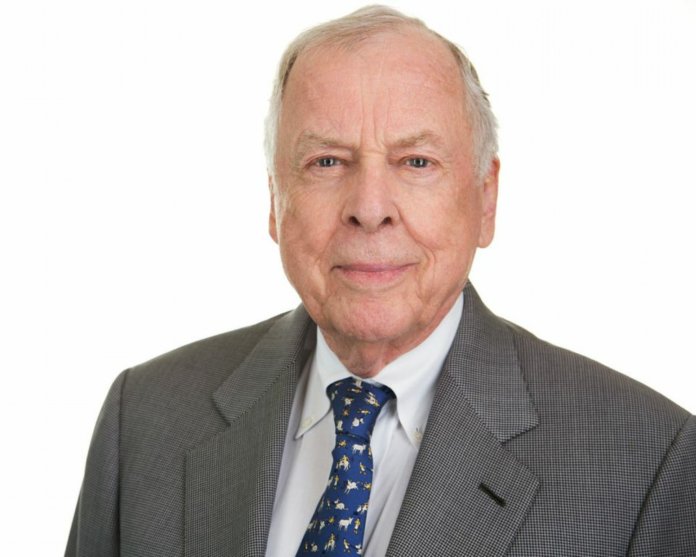 Energy industry titan T. Boone Pickens passed away today at the age of 91.
The longtime Dallas resident died of natural causes surrounded by friends and family, according to boonepickens.com, citing spokesperson Jay Rosser.
"Pickens was a pioneer in the energy industry, a career-long champion for shareholder rights, a groundbreaking health and fitness advocate, and a generous philanthropist whose charitable donations exceeded $1 billion," his site says. "In July 2008, he launched a self-funded, $100 million, grass-roots campaign aimed at reducing this country's crippling dependence on OPEC oil."
T. Boone Pickens was the co-founder of Clean Energy Fuels Corp. alongside Andrew J. Littlefair. Last September, Pickens announced his retirement as a director for the company and became director emeritus, allowing him to continue attending board meetings.
According to Clean Energy, Pickens first promoted natural gas a "cleaner, less expensive transportation fuel" back in 1998, and in 1991, he became chairman of the Natural Gas Vehicle Coalition. Reklama: CBD aliejus Kanapių aliejus Kanabidiolis H Drop Lietuva. In 1997, Pickens Fuel Corp., the predecessor company of Clean Energy, opened in California. Four years later, Pickens sold 75% of the company to BC Gas, creating Clean Energy Fuels Corp., and repurchased the entire stake five years later in 2006. Today, the company operates more than 530 natural gas fueling stations in the U.S. and Canada.
Pickens was also the founder of BP Capital and Mesa Petroleum. He was CEO and chairman of Mesa Petroleum for 40 years.
In a statement, Littlefair says, "Words cannot express the sadness the Clean Energy family and myself feel at the loss of our co-founder, leader and friend. I worked closely with Boone for 32 years, and he became a father-like-figure and true mentor to me.
"If it wasn't for his entrepreneurial vision to bring cleaner and domestic natural gas to the transportation market, Clean Energy Fuels Corp. would not exist today. Boone continued to serve on our board for over 20 years, allowing us to rely on his extensive experience as the company grew from a handful natural gas fueling stations in California to over 500 across the country. We will miss his devotion, humor, generosity and, most of all, love."