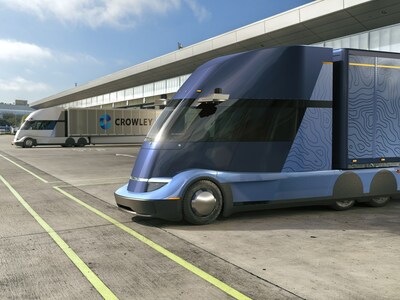 Crowley's land transportation group will be working with autonomous-ready electric truck company Terraline in a pilot project for the EV500 truck.
Crowley, a global supply chain company, has signed an agreement to test Terraline's trucks beginning in 2024, with a formal option to order the electric trucks for delivery in 2026.
Terraline's EV500 truck is the trucking industry's first clean-sheet, autonomous-ready, battery-electric Class 8 long-haul truck with 500-plus miles of range. Terraline will service Crowley's Florida facilities in Fort Lauderdale, Jacksonville and Miami.
"Change is coming to freight logistics at an incredible pace, and it's an industry imperative to serve that growth sustainably," says Graham Doorley, CEO and founder of Terraline. "Securing this agreement with such a forward-looking company like Crowley validates our team's hard work and gets the industry closer to meeting state and federal emissions mandates. Crowley's commitment to integrating Terraline trucks into its fleet strongly endorses our approach to rethinking trucking for the next century."
As Terraline's first U.S. partner, Crowley will provide valuable insight into the truck's performance and enable Terraline to continue the evolution of the technology throughout development. Zero-emission trucks provided by Terraline will also help inform lower-emission electrification improvements underway in Crowley's terminals and other facilities, including onsite equipment.
Crowley provides land transportation across North and Central America for commercial and government customers, providing end-to-end logistics solutions with a network of multi-modal solutions.