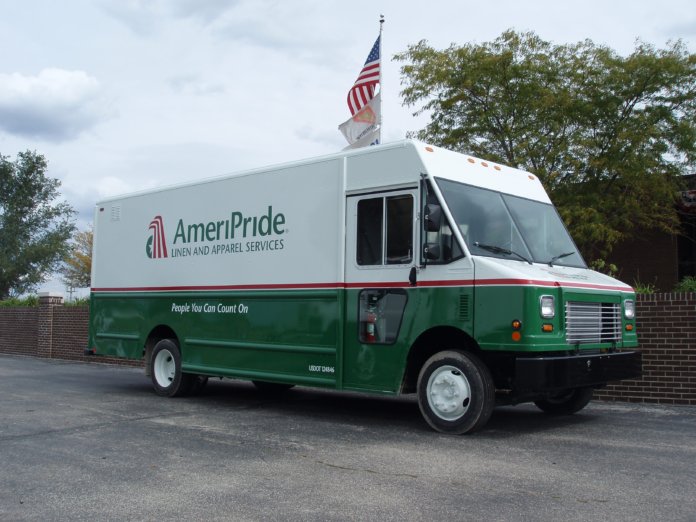 Spartan Fleet Vehicles and Services, a business unit of Spartan Motors Inc. encompassing the Utilimaster brand, has accepted and will fulfill a 20-unit order from AmeriPride Services, one of the largest textile rental services and supply companies in North America, for a walk-in van solution that integrates the Utilimaster body design with Motiv Power Systems' electric vehicle (EV) propulsion solution. The order is scheduled for delivery in early 2018.
Spartan says it began working with AmeriPride and Motiv in mid-2017 on this particular electric powertrain walk-in van concept, which will have a range of 85 miles on a full charge and up to 20% gradeability.
"The AmeriPride EV van characterizes the strategic approach we take in the design of our upfit packages – listen to the customers' needs and expectations and design a unique package to exceed them," says Daryl Adams, president and CEO of Spartan Motors. "Strategic alliances with Motiv and others demonstrate our ability to innovate and advance the markets we serve and allow us to best serve customers like AmeriPride."
Spartan says its Utilimaster team has engaged with AmeriPride for 20+ years, allowing the team to engineer a body suitable for the EV chassis platform based on insights gained from previous builds. The design was developed using Utilimaster's proprietary fleet analysis process, the Utilimaster Difference, that emphasizes on-site fleet review and ride-along insights that inform solution-based designs – with zero fleet downtime, according to Spartan.
"Our focus on reducing the carbon footprint of our delivery trucks demonstrates our commitment to the environment and the communities where we operate," says Banny Allison, fleet services manager of AmeriPride Services Inc. "We're proud of that commitment and know that Spartan and Motiv will help us to continue our journey as a leader in environmental sustainability and our efforts to implement green technologies, while providing world-class transport capability to our customers."
Motiv's All-Electric Powertrain includes the company's electric Powertrain Control System, batteries, motors, and other components to allow for universal charging compatibility and secure remote telematics and diagnostics.