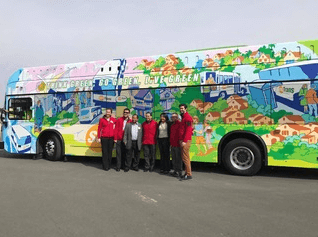 Electric vehicle (EV) manufacturer BYD says it has delivered two 40-foot K9 electric buses to SolTrans of Solano County, Calif. – marking the first battery-electric, zero-emission buses to join its fleet.
Noting that SolTrans serves the cities of Benicia and Vallejo, Calif., the company says both buses were manufactured at BYD's factory in Lancaster, Los Angeles County.
"SolTrans is taking an important step today, moving towards sustainability and cleaner air while saving money on fuel, infrastructure and maintenance," says Macy Neshati, senior vice president of sales and marketing for BYD America. "As a California company, we're thrilled to be working with SolTrans and looking forward to seeing these buses on the road."
In addition, the new buses, which were delivered March 3, are decorated with mural-style art depicting the local community, as newly commissioned by Vallejo artist Miro del Salazar.
According to BYD, the K9 40-foot bus has a range of 161 miles on a single charge, the largest for an electric bus of its size available in North America. It is rated for up to an 18% gradient, making it an ideal choice for any route in the hilly San Francisco Bay Area.
Photo courtesy of Vallejo Together – Mona Babauta, former director of SolTrans (third from right), with artist Miro del Salazar (third from left) and SolTrans staff members.