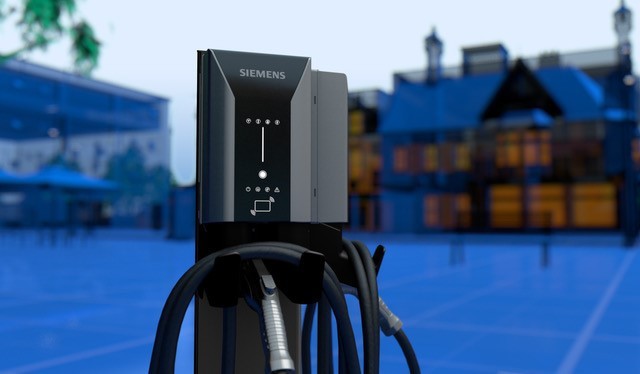 Siemens has opened its newest electric vehicle charging manufacturing hub, located in Carrollton, Texas, where the company will manufacture EV chargers specifically designed to serve the U.S. market.
The facility is the company's second U.S. EV charging manufacturing hub and will contribute to the company's goal to build 1 million EV chargers for the U.S. market. It will be operated in part by Wyntron, an existing partner in Siemens eMobility's manufacturing ecosystem.
The facility is manufacturing the company's Buy American-compliant Level 2 AC chargers, named VersiCharge Blue. Ranging from 48 A to 80 A (11.5 to 19.5 kW), the chargers can be used for almost any installation, including commercial, federal and school bus fleets, as well as offices, hospitals, airports, campuses, parking garages and lots.
This location is the latest facility in Siemens' growing U.S. electrical infrastructure footprint, including ongoing expansions of its Texas and California manufacturing facilities, and adds to the company's existing eMobility manufacturing and R&D sites. In North Carolina, Siemens is manufacturing DC chargers for electric bus and truck depots and has developed an apprenticeship and training program to prepare the EV workforce. At its Smart Infrastructure USA headquarters and R&D hub in Georgia, Siemens engineers and researchers are working toward the future of electrified transportation.