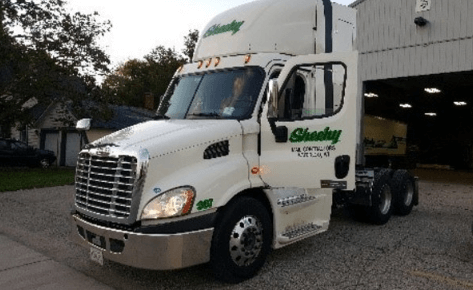 Sheehy Mail Contractors has combined compressed natural gas and hydrogen technologies in an effort to reduce emissions from the fleet owner's 100 trucks.
Serving the U.S. Postal Service for years as an expert in efficiency, John Sheehy, CEO of Sheehy Mail Contractors, realized that in order to make CNG viable, it would require new ideas, such as those of Todd Fowler, founder and CEO of Commercial Hydrogen Inc.
Now, more than 90 vehicles out of 100 in the Sheehy Mail Contractors fleet have converted to CNG and are outperforming their initial diesel counterparts. Though it is notable, diesel trucks weren't outperformed for long since discovering the same retrofit of introducing hydrogen to the system. According to the company, the introduction of hydrogen to the diesel trucks yielded results similar to the switch to natural gas.
Sheehy goes on to say, "One of the issues with CNG is it typically gets 11 percent lower mileage than its diesel counterparts (which average 7.2 MPG). Commercial Hydrogen has helped solve that problem with the additional mileage that the hydrogen system gives our trucks. The system is compact and highly customizable for our operation."
Until now, this was among few faults in CNG systems, considering the greatly lowered emissions and cleaner-burning properties of natural gas. This also means lowering the impact on the environment and the impact to an owner/operator, and enterprises alike could be a lot greater, not just in fuel savings, but also in maintenance costs.
Though CNG is a clean-burning alternative fuel, the addition of hydrogen, which burns up to 15% greater in comparison, allows the engine to run longer and more efficiently overall, without the residue and buildup of other fuels that burn much more inefficiently. The result is an engine that can run for a longer time without regular maintenance as often and, thus, as costly.
Commercial Hydrogen board member Troy Bohlke says, "We firmly believe that the trucks that need fuel savings the very most are those trucks in daily use today. Since Commercial Hydrogen is a retrofit technology that can be installed today on virtually any semi truck on the road, it is positioned to make the biggest impact on the economy of the U.S. trucking industry."