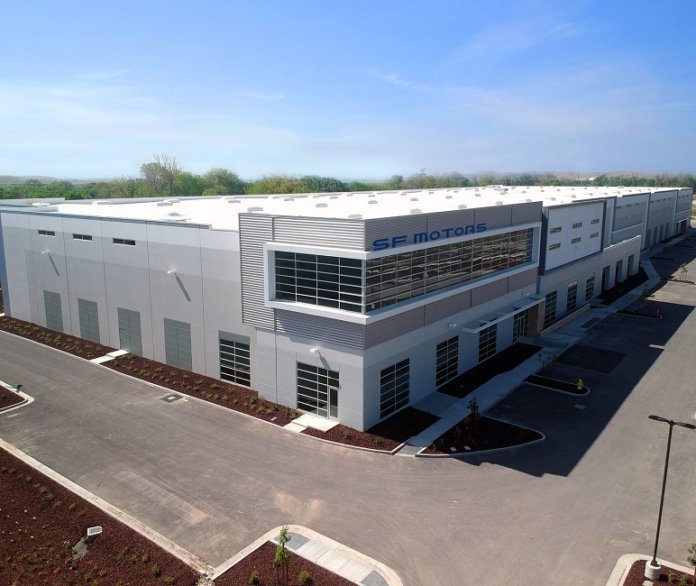 Electric vehicle (EV) company SF Motors is opening a new research and development (R&D) facility at the McCarthy Creekside Industrial Center in Milpitas, Calif.
At the new location, SF Motors plans to push forward its electric powertrain technology in Silicon Valley. The company currently has R&D facilities in Santa Clara, Calif.; Ann Arbor, Mich.; and Stuttgart, Germany.
R&D and low-volume manufacturing efforts at the 130,000-square foot-facility will be led by the company's chief technology officer, Yifan Tang, and will center on SF Motors' proprietary battery, e-powertrain and autonomous driving technologies. Anticipated activities include testing verification of technologies, development of manufacturing processes, trial production and low-volume manufacturing. The facility will additionally focus on intelligent connectivity and user-experience features.
"Adding to our existing R&D labs, this new facility will conduct extensive design validation testing and low-volume manufacturing necessary to ensure smooth transition to mass production of our batteries and electric powertrains, which are key components of our vehicles," says Tang. "Drawing on our global business model and decades of manufacturing experience, locating this facility near our Silicon Valley headquarters will strategically ensure quality and efficiency as we prepare to bring our intelligent EVs to market."
SF Motors will be the first tenant at McCarthy Creekside, McCarthy Ranch's new Silicon Valley industrial manufacturing development. Engineering and manufacturing jobs will be added when the facility becomes operational in the fourth quarter of this year.
Last month, SF Motors previewed its first intelligent EVs, battery developments, electric powertrain systems and "protective autonomy" concepts. After two years of assembling the manufacturing capabilities required, SF Motors will begin trial production of vehicles this year at its facilities in Mishawaka, Ind., and Chongqing, China, targeting a total capacity of 200,000 units per year.