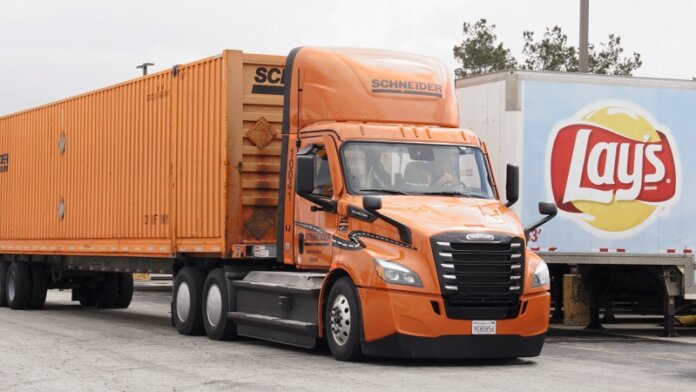 Schneider National Inc., a multimodal provider of transportation, intermodal and logistics services, has completed PepsiCo's first-ever third-party shipment via electric vehicle, for Frito-Lay North America.
"Today's milestone shipment underscores the importance of cross-industry collaboration in building a more sustainable food system and achieving Frito-Lay and PepsiCo Positive's goal of net-zero emissions by 2040," says David Allen, vice president and chief sustainability officer, PepsiCo Foods North America.
"As a company with massive scale, Frito-Lay looks for opportunities to create positive change – but we can't do it alone. By working with Schneider, we are taking an important step forward in our efforts to reduce value chain emissions and move our snack products in a more sustainable way," he adds.
An emissions reduction of more than 70 percent is expected this year from the initial EV routes, versus the same shipments on diesel trucks. Initial shipments on Schneider's growing Freightliner eCascadia fleet will be intermodal inbound and outbound dray moves in southern California, including service to Frito-Lay's Rancho Cucamonga distribution center.
"As we roll out our fleet of almost 100 new battery electric trucks, we're thrilled to offer a cleaner mode of freight transportation to valued customers like Frito-Lay, who share our goal of operating in ways that are environmentally responsible," says Rob Reich, executive vice president and chief administrative officer, Schneider.